ZOOM U TAIL WORM 20 PKG 6in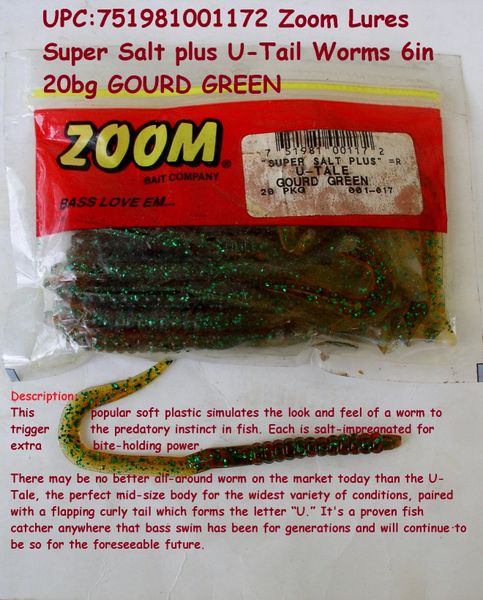 ZOOM U TAIL WORM 20 PKG 6in
ZOOM U TAIL WORM 20 PKG 6in
FOLLOW ME ON TWITTER
Typically ships within 1 to 4 Hours!
Description:
This popular soft plastic simulates the look and feel of a worm to trigger the predatory instinct in fish. Each is salt-impregnated for extra bite-holding power.
There may be no better all-around worm on the market today than the U-Tale, the perfect mid-size body for the widest variety of conditions, paired with a flapping curly tail which forms the letter "U." It's a proven fish catcher anywhere that bass swim has been for generations and will continue to be so for the foreseeable future.

SPECS: 001-017 GOURD GREEN, ALABAMA CRAW, BULLFROG

UPC:751981001172, UPC:751981157619, UPC:751981158456

PRICES ARE BASED ON WHAT I PAY + 10% PER ITEM, SO PRICES MAY VARY FROM ORDER TO ORDER THANK YOU KEN