ZOOM THE ORIGINAL TRICK WORM S AFRICA SPECIAL #006-334 20-PKG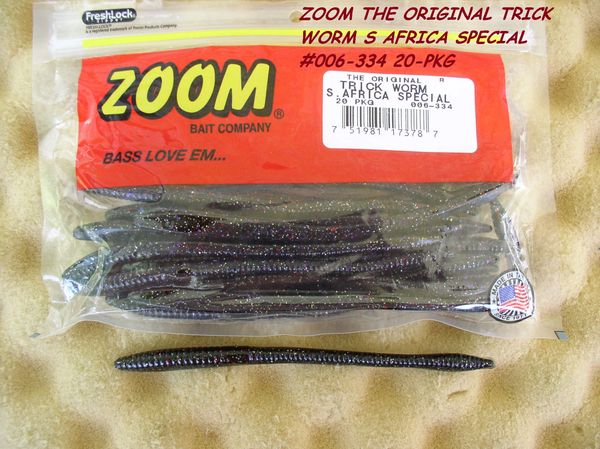 ZOOM THE ORIGINAL TRICK WORM S AFRICA SPECIAL #006-334 20-PKG
ZOOM THE ORIGINAL TRICK WORM S AFRICA SPECIAL #006-334 20-PKG
Description:
The Trick Worm quickly gained tons of attention last season as "the floater that really gets 'em". This bait is dynamite for top water worming when fished weightless and twitched slowly. Hook it Texas style.
Size: 6 1/2in  UPC:751981173787
Specifications:
Size = 6.5 inches
Straight tailed worm
Segmented worm with a natural slithering action
This Worm will work wonders when Texas rigged, Carolina rigged or even on a Drop Shot. Packed 20 per bag.
Color: S AFRICA SPECIAL
Manufacturer: Zoom Lures
MODEL:006-334
UPC:751981173787
Remember FREE Shipping on orders of $25 or more!