ZOOM SUPER SALT PLUS 6.5 INCH TRICK WORM GREAT FOR ALL SATURATION'S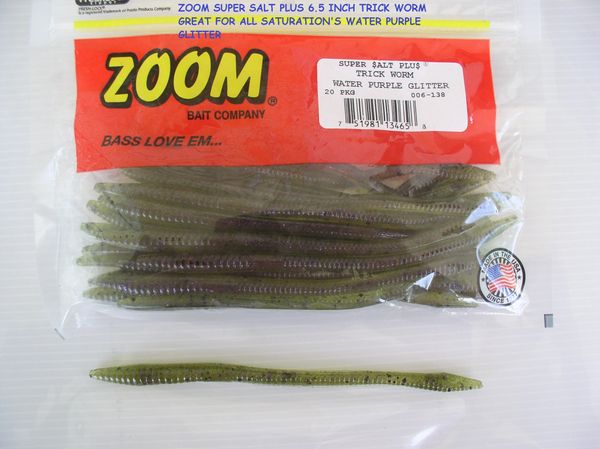 ZOOM SUPER SALT PLUS 6.5 INCH TRICK WORM GREAT FOR ALL SATURATION'S
ZOOM SUPER SALT PLUS 6.5 INCH TRICK WORM GREAT FOR ALL SATURATION'S
Description:
The Trick Worm was the original floating worm, deadly for twitching and deadsticking weightless for a stealth approach to shallow water bass, but in recent years it has become the gold standard for so much more. Savvy pros have realized that its straight, slender profile is perfect on the back of a shakey head or Carolina rigged when fish have seen every other lure under the sun. With its subtle approach and wide range of color options, there?s a Trick Worm for every situation.Size: 6.5 inch
UPC:751981134658, UPC:751981173862
Zoom Bait Company Magnum Trick Worm
When the pros asked for a bigger Trick Worm after the recent successful launch of the Magnum Finesse Worm. As always, Zoom delivered what the pros want – the Magnum Trick Worm. This is a 7" beefier big brother of the Trick Worm was a huge success when "field tested". It was so good that most of the pros wanted to keep this new product a secret! 8 per pack.
Model: Z115-054
UPC: 751981165775 $ 4.79 Zoom Bait Company Magnum Trick Worm 054 - Watermelon Red
Remember FREE Shipping on orders of $25 or more!