Zoom Salty Magnum Super Fluke 7 INCH #112-115 5-PK BABY BASS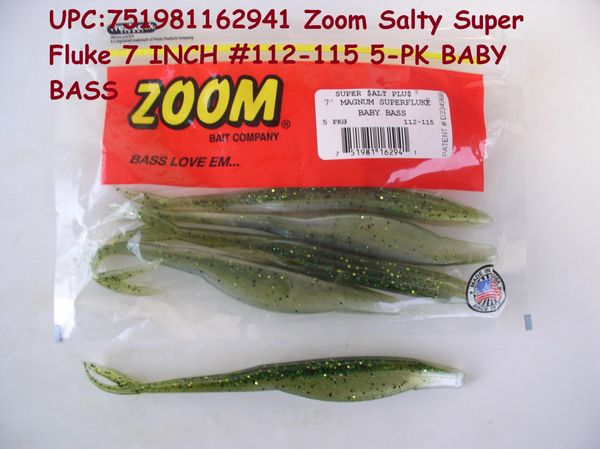 Zoom Salty Magnum Super Fluke 7 INCH #112-115 5-PK BABY BASS
Zoom Salty Magnum Super Fluke 7 INCH #112-115 5-PK BABY BASS
Description

For those times when the original Super Fluke isn't big enough to match big perch or magnum sized gizzard shad, now there's a version to match monster forage and tempt the biggest bass on your lake, without sacrificing any of the qualities that made the original so great. Soft jerk baits are known fish catchers and the Salty Super Fluke from Zoom Baits is one of the premier baits on the market today. The natural fish shape is attractive to all kinds of fish in both fresh and salt water, but big bass really like them. Because of their streamlined shape they glide and swoop through the water easily with the slightest twitch of the rod tip. Use them weightless and they hit the surface like a fleeing baitfish. Use Insert Weights to get the Super Fluke down around fish-holding structure or deep into brush. Try the Zoom Super Flukes anytime you need a quiet baitfish imitation. With all the colors available you'll find one that catches fish in your lake. UPC: 751981162941
The Super Fluke is a truly amazing bait. One would really have to fish with this wonder to understand. Texas rig it without a weight, and twitch or "soft jerk" on the surface, then let it slowly fall to a few feet deep, and repeat. Bass just "react" when they see this bait in action. They just can't stand it. This bait is very effective when fished in weed pockets also.
Specifications:
Size = 7 inches
Baitfish imitator
Largest member of the fluke family features a deep belly with a hook slot and a forked tail
Salt-impregnated
Great anytime bass want a bigger shad-shaped meal, can be fished weightless on the surface or with added lead or tungsten to plumb the depths
Model 112: Mag Super Fluke - 7" - 5 Per Pack

115- BABY BASS
Size: 7in

Remember FREE Shipping on orders of $25 or more!