ZOOM BAIT COMPANY SUPER FLUKE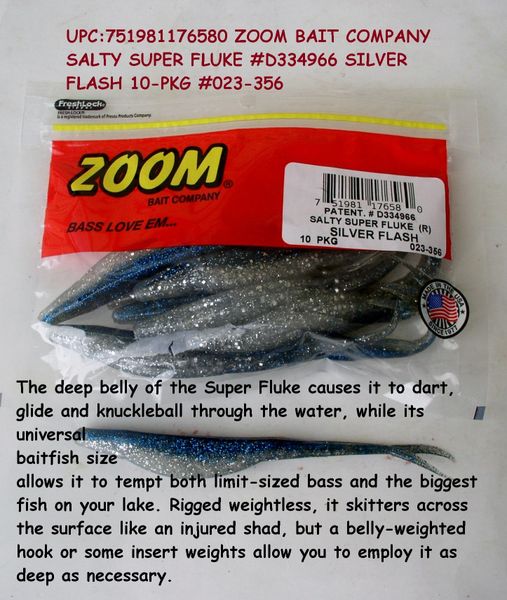 ZOOM BAIT COMPANY SUPER FLUKE
ZOOM BAIT COMPANY SUPER FLUKE
FOLLOW ME ON TWITTER
Description:
The Super Fluke is a truly amazing bait. One would really have to fish with this wonder to understand. Texas rig it without a weight, and twitch or "soft jerk" on the surface, then let it slowly fall to a few feet deep, and repeat. Bass just "react" when they see this bait in action. They just can't stand it. This bait is very effective when fished in weed pockets also. UPC:751981176580, UPC:751981168912, UPC:751981151105

Model 023: Super Fluke - 5 1/4" - 10 per pack
356 -FLUKE SILVER FLASH
, 304-WATERMELON RED MAGIC
109-BAIT FISH
Size: 5"
Model: Z023-339X
 More New Description:
Without a doubt, the Zoom 5'' Super Fluke is the most popular soft jerkbait ever produced. Its realistic bait fish profile and split-tail design combine to drive fish crazy; built just a bit stockier and heavier than a regular Fluke, it casts farther and has a slightly quicker sink rate. Meanwhile, as countless tournament victories have proven, there's just no wrong way to fish it. A Super Fluke can be rigged on a weighted or unweighted hook, on a Texas or Carolina rig, on a dropshot setup, behind a jighead, as a spinnerbait trailer, or even wacky-style; fished fast or slow, on top or down deep, it always seems to get results. Super-soft and durable; salt-impregnated to hold the bite. Classic 5" size is ideal for a wide range of applications. Made in USA.
    Most popular soft jerkbait ever produced
    Realistic baitfish profile with split-tail action
    Slightly heavier than a regular Fluke
    Casts longer and sinks slightly faster
    Versatile; can be fished many ways
    Super-soft, yet durable
    Salt-impregnated to hold the bite
    Classic 5" size fits most waters and conditions
Year after year, Zoom Baits remain the hottest soft plastics in bass fishing. Zoom soft baits are legendary for their uncanny fish-producing ability, and rare is the tournament angler who will leave the dock without a good supply in the boat. Wholly realistic, super-soft to the touch, and salt-impregnated, Zoom soft baits have the look, the action, and the flavor needed to make fish bite down hard, and fight to hang on.

PRICES ARE BASED ON WHAT I PAY + $0.50 PER ITEM, SO PRICES MAY VARY FROM ORDER TO ORDER THANK YOU KEN