Z-Man Project Z Chatter Bait Jig Dark Green Pumpkin 3/8oz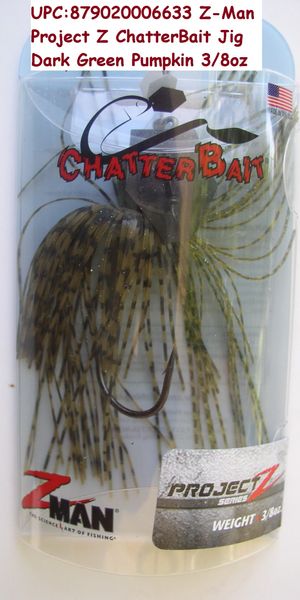 Z-Man Project Z Chatter Bait Jig Dark Green Pumpkin 3/8oz
Z-Man Project Z Chatter Bait Jig Dark Green Pumpkin 3/8oz
FOLLOW ME ON TWITTER
Typically ships within 1 to 4 Hours!
Description

The Z-Man Project Z ChatterBait Jig features a realistically painted head with 3-D eyes, a double-barbed trailer keeper and skirt for drawing in freshwater bass. The jig is designed with a Mustad Fastach clip, a heavy-duty wire line tie and a Mustad Ultra Point hook for secure attachment and high-percentage grabs. 4" length. Made in USA.   UPC:879020006633, UPC:879020006695, UPC:879020006671

Feature:

Designed for high-percentage hook ups of freshwater bass
Realistically painted head with 3-D eyes, double-barbed trailer keeper and skirt
Mustad Ultra Point hook
Weighs 3/8 oz.
Mustad Fastach clip and a heavy-duty wire line tie for secure blade attachment
4" long
Made in USA
The ChatterBait bladed swim jig burst onto the bass fishing scene in 2006 following several tournament successes and became a highly-sought-after bass lure virtually overnight. With its patented design and unique, hex-shaped ChatterBlade, the sound, vibration, and action of The Original ChatterBait brand bladed jigs is unmatched. The end result is a versatile lure that offers the erratic action of crankbait, large profile of a jig, and irresistible flash of a spinnerbait.

Fueled by the wants, needs, and recommendations of avid anglers the world over, the Project Z ChatterBait is Z-Man's top-of-the-line bladed swim jig, taking the proven versatility and fish-catching performance of The Original ChatterBait to the next level! This entry in the ChatterBait line features a streamlined head design that allows the blade to swing more freely, resulting in more vibration, whether you're ripping the bait through grass or employing a more methodical stop-and-go retrieve, as well as upgraded components for increased longevity.

Specifications:
Fishing - Water: Freshwater
Fishing - Species: Bass
Type: Bladed Jigs
6/0 Mustad UltraPoint black nickel hook
Proven, stainless hex-shaped ChatterBlade, stamped and plated in the U.S.A.
Super-strong quick clip attached to the blade
Hardened stainless wireform molded into the head to attach the blade
Multi-step, skirt-matched paint schemes
Z-Tie double umbrella EZ Skirt for a fuller skirt profile, rivaling a hand-tied look
Enlarged jighead collar to eliminate skirt slippage
Super-sharp, double-keeper jighead barbs to hold soft plastic trailers securely in place
3D eyes for ultra-realistic look
Cast, painted, assembled and packaged in the USA
Weight: 1 oz.
Hook Size: 5/0 Mustad UltraPoint black nickel hook
Color: Breaking Bream
Quantity: Per 1

PRICES ARE BASED ON WHAT I PAY + 10% PER ITEM, SO PRICES MAY VARY FROM ORDER TO ORDER THANK YOU KEN