Z-MAN CHATTERBAIT JACK HAMMER EVERGREEN CUSTOM BLADED JIG 3/8 OZ. #06-BLUE/BLACK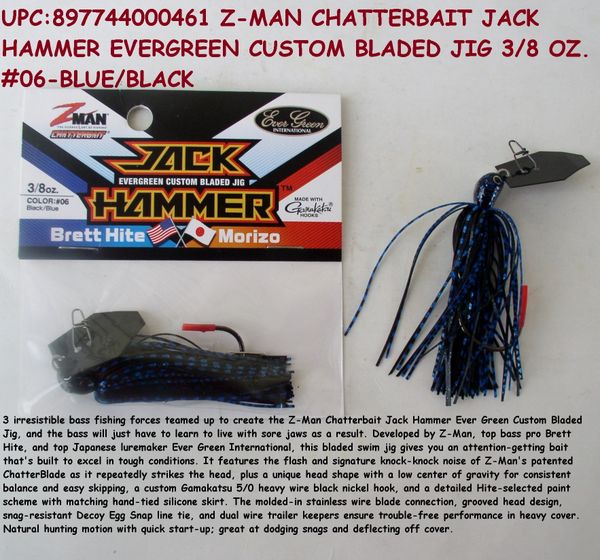 Z-MAN CHATTERBAIT JACK HAMMER EVERGREEN CUSTOM BLADED JIG 3/8 OZ. #06-BLUE/BLACK
Z-MAN CHATTERBAIT JACK HAMMER EVERGREEN CUSTOM BLADED JIG 3/8 OZ. #06-BLUE/BLACK
Typically ships within 1 to 4 Hours!
Description:
3 irresistible bass fishing forces teamed up to create the Z-Man Chatter bait Jack Hammer Ever Green Custom Bladed Jig, and the bass will just have to learn to live with sore jaws as a result. Developed by Z-Man, top bass pro Brett Hite, and top Japanese luremaker Ever Green International, this bladed swim jig gives you an attention-getting bait that's built to excel in tough conditions. It features the flash and signature knock-knock noise of Z-Man's patented Chatter Blade as it repeatedly strikes the head, plus a unique head shape with a low center of gravity for consistent balance and easy skipping, a custom Gamakatsu 5/0 heavy wire black nickel hook, and a detailed Hite-selected paint scheme with matching hand-tied silicone skirt. The molded-in stainless wire blade connection, grooved head design, snag-resistant Decoy Egg Snap line tie, and dual wire trailer keepers ensure trouble-free performance in heavy cover. Natural hunting motion with quick start-up; great at dodging snags and deflecting off cover.   UPC:897744000461
Is the Jackhammer Chatterbait better than the OCB???!!!

FEATURES:
    3D eyes    Dual wire trailer keepers
    Snag-resistant Decoy Egg Snap line tie
    Grooved head eliminates blade detachment
    Stainless wire blade connection
    Matching paint and hand-tied silicone skirt
    Gamakatsu 5/0 heavy wire hook
    Low-gravity head shape
    Flashy, noisy ChatterBlade
    Attention-getting bladed swim jig
    Designed by an international team including Brett Hite

I LOVE FEEDBACK IT HELPS ME KNOW WHAT MY CUSTOMERS LIKE
REMEMBER YOU CAN ALWAYS RENT A ROD & REEL FROM LAND OF LURES  

PRICES ARE BASED ON WHAT I PAY + $0.50 PER ITEM, SO PRICES MAY VARY FROM ORDER TO ORDER THANK YOU KEN