YUMBRELLA FLASH MOB BAIT SCHOOL TECHNOLOGY #1Y31633 UMBRELLA RIG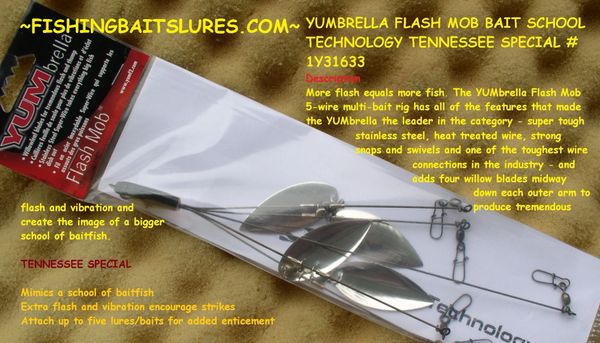 YUMBRELLA FLASH MOB BAIT SCHOOL TECHNOLOGY #1Y31633 UMBRELLA RIG
YUMBRELLA FLASH MOB BAIT SCHOOL TECHNOLOGY TENNESSEE SPECIAL #1Y31633
FOLLOW ME ON TWITTER
Typically ships within 1 to 4 Hours!
Description:

More flash equals more fish. The YUMbrella Flash Mob 5-wire multi-bait rig has all of the features that made the YUMbrella the leader in the category - super tough stainless steel, heat treated wire, strong snaps and swivels and one of the toughest wire connections in the industry - and adds four willow blades midway down each outer arm to produce tremendous flash and vibration and create the image of a bigger school of baitfish.
TENNESSEE SPECIAL

UPC:719339101882

Features:

Mimics a school of baitfish
Extra flash and vibration encourage strikes
Attach up to five lures/baits for added enticement
PRICES ARE BASED ON WHAT I PAY + $0.50 PER ITEM, SO PRICES MAY VARY FROM ORDER TO ORDER THANK YOU KEN