YUMBRELLA, BOXER JIG, KEITECH SCHOOLING RIG KIT MADE UP BY LAND OF LURES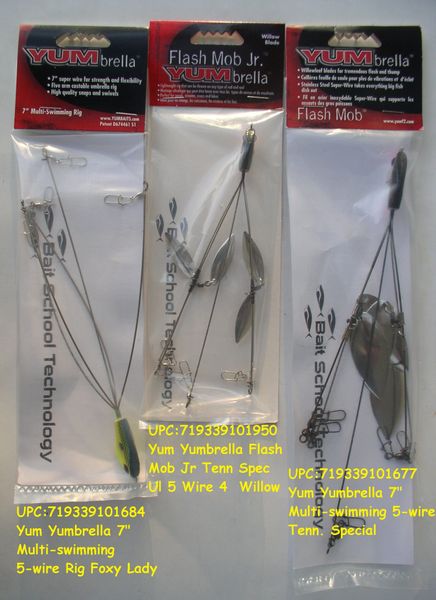 YUMBRELLA, BOXER JIG, KEITECH SCHOOLING RIG KIT MADE UP BY LAND OF LURES
YUMBRELLA, BOXER JIG, KEITECH  SCHOOLING RIG KIT MADE UP BY LAND OF LURES
DESCRIPTION
All in one schooling rig kit, comes with one pack of 4 Inch Keitch Easy Shiners Swimbaits (matching colors) and 5 - 1/8 Oz. VMC Boxer jig heads (matching colors) with 4/0 hooks x Strong.
Pursuit of the biggest catch requires realistic lures for appeal to both sight and smell. My Schooling Rig Kits are built to deliver near authentic lure effects for optimal attraction results. They feature 3D eyes, Strong Squid Scent and "two spare easy shiners", 60 pound snap swivels and a control ring for easy transportation and storage.  UPC:028632617670, UPC:719339101684, UPC:719339101950, UPC:719339101882, UPC:4560262577703, UPC:4560262577710, UPC:4560262577697, UPC:4560262577734, UPC:043193111528
Specifications:

- Quantity: 1
- Line Pound Test: 60
- Color: Pearl White Heads
- You can pick the color easy shiners from four colors
OTHER DETAILS

Quantity:1
SKU:YUMB5FL, YUMB5TS, YUMBWSB5TSNR, YUMBLW5TSNR

Remember FREE Shipping on orders of $25 or more!