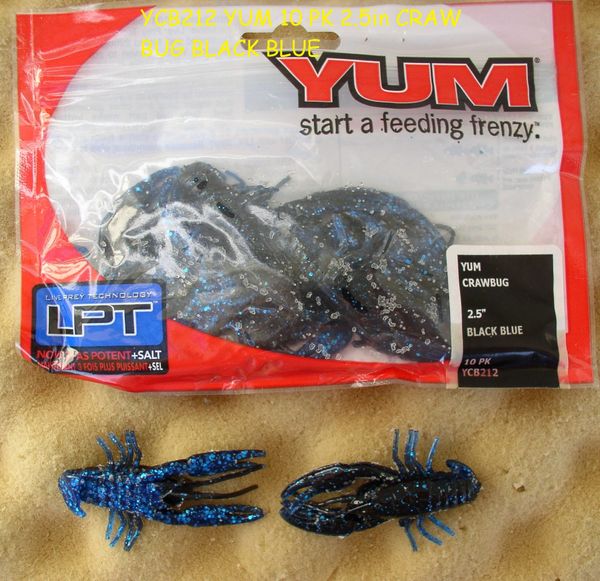 YUM CRAWBUG YCB
YUM CRAWBUG YCB
 Description:
 Yum CrawBug YCB312 3.25" Black/Blue Qty 8
 Yum soft plastic baits are true fish attractants containing biological and natural fish oils with special ingredients that simulate an injured food source and stimulate the aggressive attack instincts of gamefish to help you catch more fish. Yum is the highly scientific secret ingredient in all Yum brand soft plastic lures and bottled attractants. Yum starts a feeding frenzy because it's the only fish attractant with natural shad enzymes plus salt impregnation for even more fish attracting power. And for the things you don't want on your bait or in the water, Yum Hand Balm masks negative odors like gasoline, tobacco, insect repellent and human skin oils that gamefish can detect.
 LPT Technology
Now 3x as potent + salt
Brand: Yum
Product Category: Plastics
Condition: New
 SKU: 147678
UPC:719339059541, UPC:719339059350, UPC:719339059541, UPC:719339059527, UPC:719339110136, UPC:719339107358, UPC:719339107341
MORE YUMBAITS FROM LAND OF LURES 
 Remember FREE Shipping on orders of $25 or more!