YO-ZURI SASHIMI POPPER FLOATING R1064 A MUST HAVE LURE ON THE TOURNAMENT TRAIL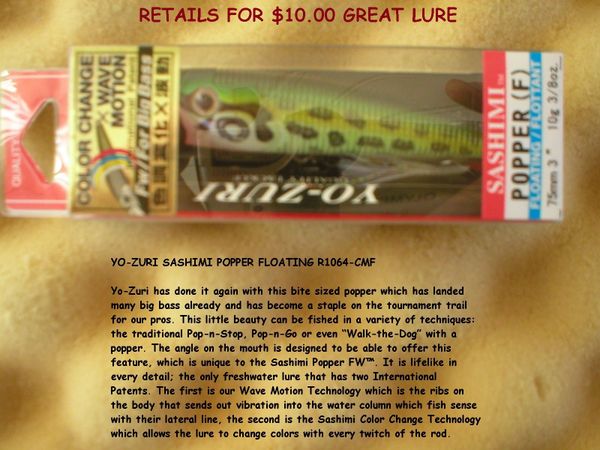 YO-ZURI SASHIMI POPPER FLOATING R1064 A MUST HAVE LURE ON THE TOURNAMENT TRAIL
YO-ZURI SASHIMI POPPER FLOATING R1064 A MUST HAVE LURE ON THE TOURNAMENT TRAIL

Sashimi Popper - Floating

Get em while they last!
UPC#756791405530, UPC:756791405516, UPC:756791474529, UPC:756791484269
Yo-Zuri has done it again with this bite sized popper which has landed many big bass already and has become a staple on the tournament trail for our pros. This little beauty can be fished in a variety of techniques: the traditional Pop-n-Stop, Pop-n-Go or even "Walk-the-Dog" with a popper. The angle on the mouth is designed to be able to offer this feature, which is unique to the Sashimi Popper FW. It is lifelike in every detail; the only freshwater lure that has two International Patents. The first is our Wave Motion Technology which is the ribs on the body that sends out vibration into the water column which fish sense with their lateral line, the second is the Sashimi Color Change Technology which allows the lure to change colors with every twitch of the rod.
Remember FREE Shipping on orders of $25 or more!