YO-ZURI SASHIMI DEEP CRANK FLOATING R1062 GOES WHERE THE BIG BASS ARE TOUGH LURE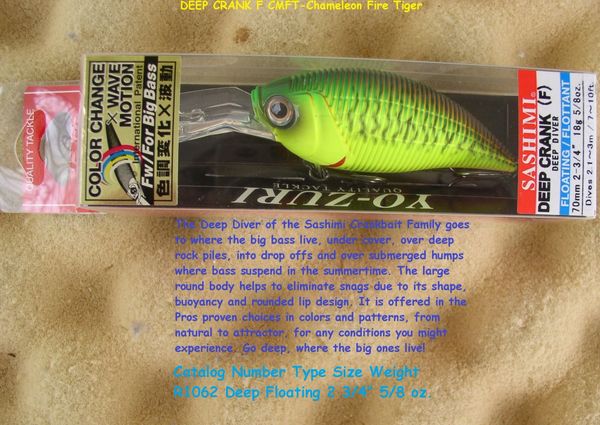 YO-ZURI SASHIMI DEEP CRANK FLOATING R1062 GOES WHERE THE BIG BASS ARE TOUGH LURE
YO-ZURI SASHIMI DEEP CRANK FLOATING R1062 GOES WHERE THE BIG BASS ARE TOUGH LURE

DEEP CRANK FLOATING

The Deep Diver of the Sashimi Crank bait Family goes to where the big bass live, under cover, over deep rock piles, into drop offs and over submerged humps where bass suspend in the summertime. The large round body helps to eliminate snags due to its shape, buoyancy and rounded lip design. It is offered in the Pros proven choices in colors and patterns, from natural to attractor, for any conditions you might experience. Go deep, where the big ones live! UPC:756791405394

Catalog Number Type Size Weight
R1062 Deep Floating 2 3/4" 5/8 oz.
Remember FREE Shipping on orders of $25 or more!