Yo Zuri R1207HGSH Ghost Shad 3d Inshore Twitchbait Slow Sinking 1/4 OZ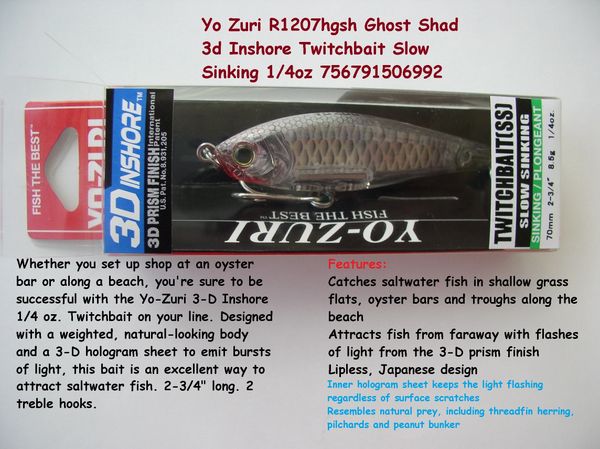 Yo Zuri R1207HGSH Ghost Shad 3d Inshore Twitchbait Slow Sinking 1/4 OZ
Yo Zuri R1207HGSH Ghost Shad 3d Inshore Twitchbait Slow Sinking 1/4 OZ
Description

Whether you set up shop at an oyster bar or along a beach, you're sure to be successful with the Yo-Zuri 3-D Inshore 1/4 oz. Twitchbait on your line. Designed with a weighted, natural-looking body and a 3-D hologram sheet to emit bursts of light, this bait is an excellent way to attract saltwater fish. 2-3/4" long. 2 treble hooks.
UPC:756791506992
Featuring
Catches saltwater fish in shallow grass flats, oyster bars and troughs along the beach
Attracts fish from faraway with flashes of light from the 3-D prism finish
Lipless, Japanese design
Inner hologram sheet keeps the light flashing regardless of surface scratches
Resembles natural prey, including threadfin herring, pilchards and peanut bunker
2 treble hooks secure the fish to your line
Fixed weighted center and flat sides create an erratic darting motion when used with a twitch-and-pause retrieve
Weighs 1/4 oz.
Measures 2-3/4" long
Specifications
Fishing - Water: Saltwater
Type: Lipless Crankbaits
What's in the Box
Yo-Zuri 3-D Inshore 1/4 oz. Twitchbait
Remember FREE Shipping on orders of $25 or more!
Below is a quick recap of Swindle's starting lineup for crank baits to cover most sections of the water column along with his preferred line:
> Zero to 6 feet: Rapala DT-6 (10-pound Sunline Shooter fluorocarbon)
> 7 to 10 feet: Rapala DT-10 (10-pound Shooter)
> 10 to 12 feet: Bomber Fat Free Shad (12-pound Shooter)
> 12 to 16 feet: Strike King 6XD (10- or 12-pound Shooter)
> 16 to 20 feet: Strike King 8XD (12-pound Shooter)
> 20 feet or deeper: Strike King 10XD (14-pound Shooter)