Yo-Zuri #R1145 3DB PRISM WAVE MOTION RATTLE VIBE SINKING 65mm / 2-1/2" 17g / 5/8oz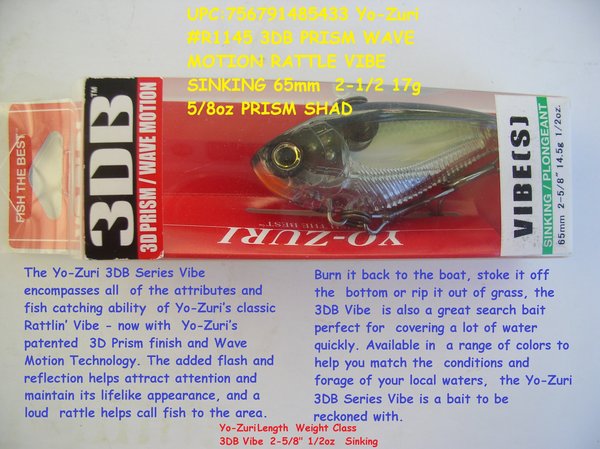 Yo-Zuri #R1145 3DB PRISM WAVE MOTION RATTLE VIBE SINKING 65mm / 2-1/2" 17g / 5/8oz
Yo-Zuri #R1145 3DB PRISM WAVE MOTION RATTLE VIBE SINKING 65mm / 2-1/2" 17g / 5/8oz
Description

The Yo-Zuri 3DB Series Vibe encompasses all of the attributes and fish catching ability of Yo-Zuri's classic Rattlin' Vibe - now with Yo-Zuri's patented 3D Prism finish and Wave Motion Technology. The added flash and reflection helps attract attention and maintain its lifelike appearance, and a loud rattle helps call fish to the area. UPC:756791485433, UPC:756791485426
Burn it back to the boat, stoke it off the bottom or rip it out of grass, the 3DB Vibe is also a great search bait perfect for covering a lot of water quickly. Available in a range of colors to help you match the conditions and forage of your local waters, the Yo-Zuri 3DB Series Vibe is a bait to be reckoned with.
Yo-Zuri Length Weight Class
3DB Vibe 2-5/8" 1/2oz Sinking
Remember FREE Shipping on orders of $25 or more!
Reviews