YO-ZURI R1134 3DS POPPER 65mm / 2-5/8 INCH FLOATING 1/4 OZ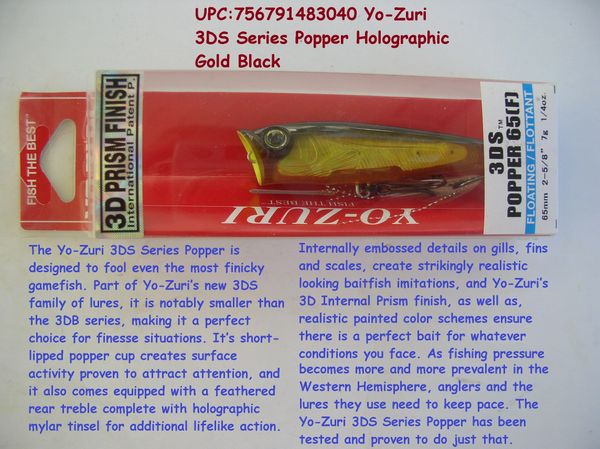 YO-ZURI R1134 3DS POPPER 65mm / 2-5/8 INCH FLOATING 1/4 OZ
YO-ZURI R1134 3DS POPPER 65mm / 2-5/8 INCH FLOATING 1/4 OZ
Description

The Yo-Zuri 3DS Series Popper is designed to fool even the most finicky gamefish. Part of Yo-Zuri's new 3DS family of lures, it is notably smaller than the 3DB series, making it a perfect choice for finesse situations. It's short-lipped popper cup creates surface activity proven to attract attention, and it also comes equipped with a feathered rear treble complete with holographic mylar tinsel for additional lifelike action. UPC:756791483040, UPC:756791483118
Internally embossed details on gills, fins and scales, create strikingly realistic looking baitfish imitations, and Yo-Zuri's 3D Internal Prism finish, as well as, realistic painted color schemes ensure there is a perfect bait for whatever conditions you face. As fishing pressure becomes more and more prevalent in the Western Hemisphere, anglers and the lures they use need to keep pace. The Yo-Zuri 3DS Series Popper has been tested and proven to do just that.
Yo-Zuri Length Weight Class
3DS Popper 2-5/8" 1/4oz Topwater
Remember FREE Shipping on orders of $25 or more!