YO-ZURI (F982-HCIW) CRYSTAL 3D MINNOW DEEP FLOATING LURE, HOLOGRAPHIC CHARTREUSE SILVER 5 1/4 INCH X 7/8 OZ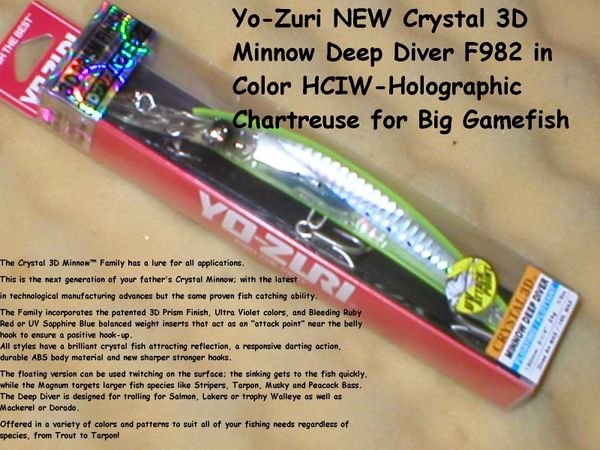 YO-ZURI (F982-HCIW) CRYSTAL 3D MINNOW DEEP FLOATING LURE, HOLOGRAPHIC CHARTREUSE SILVER 5 1/4 INCH X 7/8 OZ
YO-ZURI (F982-HCIW) CRYSTAL 3D MINNOW DEEP FLOATING LURE, HOLOGRAPHIC CHARTREUSE SILVER 5 1/4 INCH X 7/8 OZ
Description

The Crystal 3D Minnow Family has a lure for all applications. This is the next generation of your father's Crystal Minnow; with the latest in technological manufacturing advances but the same proven fish catching ability.

UPC:756791417946

The Family incorporates the patented 3D Prism Finish, Ultra Violet colors, and Bleeding Ruby Red or UV Sapphire Blue balanced weight inserts that act as an "attack point" near the belly hook to ensure a positive hook-up.
 All styles have a brilliant crystal fish attracting reflection, a responsive darting action, durable ABS body material and new sharper stronger hooks.
The floating version can be used twitching on the surface; the sinking gets to the fish quickly, while the Magnum targets larger fish species like Stripers, Tarpon, Musky and Peacock Bass. The Deep Diver is designed for trolling for Salmon, Lakers or trophy Walleye as well as Mackerel or Dorado. 
Offered in a variety of colors and patterns to suit all of your fishing needs regardless of species, from Trout to Tarpon!
Catalog Number Type Size Weight 
F982 Floating 5 1/4" 7/8 oz. 
F983 Floating 6" 1 1/4 oz. 
Remember FREE Shipping on orders of $25 or more!