YO-ZURI (F1051-HGSH) CRYSTAL 3D MINNOW JOINTED FLOATING LURE, HOLOGRAPHIC GHOST SHAD 5 1/2 INCH X 3/4 OZ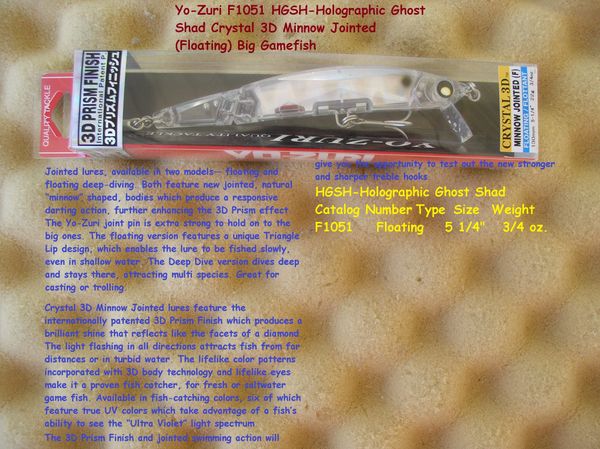 YO-ZURI (F1051-HGSH) CRYSTAL 3D MINNOW JOINTED FLOATING LURE, HOLOGRAPHIC GHOST SHAD 5 1/2 INCH X 3/4 OZ
YO-ZURI (F1051-HGSH) CRYSTAL 3D MINNOW JOINTED FLOATING LURE, HOLOGRAPHIC GHOST SHAD 5 1/2 INCH X 3/4 OZ
Description

Yo-Zuri has introduced the new Crystal 3D Minnow Jointed lures, available in two models— floating and floating deep-diving. Both feature new jointed, natural "minnow" shaped, bodies which produce a responsive darting action, further enhancing the 3D Prism effect. The Yo-Zuri joint pin is extra strong to hold on to the big ones. The floating version features a unique Triangle Lip design, which enables the lure to be fished slowly, even in shallow water.

UPC:756791416673

Crystal 3D Minnow Jointed lures feature the internationally patented 3D Prism Finish which produces a brilliant shine that reflects like the facets of a diamond. The light flashing in all directions attracts fish from far distances or in turbid water. The lifelike color patterns incorporated with 3D body technology and lifelike eyes make it a proven fish catcher, for fresh or saltwater game fish. Available in fish-catching colors, six of which feature true UV colors which take advantage of a fish's ability to see the "Ultra Violet" light spectrum. The 3D Prism Finish and jointed swimming action will give you the opportunity to test out the new stronger and sharper treble hooks.
Remember FREE Shipping on orders of $25 or more!