Yo-Zuri Crystal 3D Minnow Floating Lure, 4-3/8-Inch, Silver Black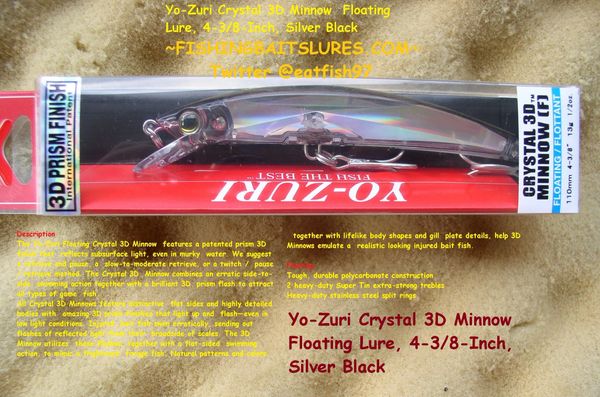 Yo-Zuri Crystal 3D Minnow Floating Lure, 4-3/8-Inch, Silver Black
Yo-Zuri Crystal 3D Minnow Floating Lure, 4-3/8-Inch, Silver Black
Description   

The Yo-Zuri Floating Crystal 3D Minnow features a patented prism 3D finish that reflects subsurface light, even in murky water. We suggest a retrieve and pause, a slow-to-moderate retrieve, or a twitch / pause / retrieve method. The Crystal 3D Minnow combines an erratic side-to-side swimming action together with a brilliant 3D prism flash to attract all types of game fish.
UPC:756791485648
All Crystal 3D Minnows feature distinctive flat sides and highly detailed bodies with amazing 3D prism finishes that light up and flash—even in low light conditions. Injured bait fish swim erratically, sending out flashes of reflected light from their broadside of scales. The 3D Minnow utilizes these flashes, together with a flat-sided swimming action, to mimic a frightened forage fish. Natural patterns and colors, together with lifelike body shapes and gill plate details, help 3D Minnows emulate a realistic looking injured bait fish.

Feature   

Floating
Tough, durable polycarbonate construction
2 heavy-duty Super Tin extra-strong trebles
Heavy-duty stainless steel split rings
Remember FREE Shipping on orders of $25 or more!