YO-ZURI (BONITA) SINKING LURE, COLOR CHANGING 210mm X 10 7/8 OZ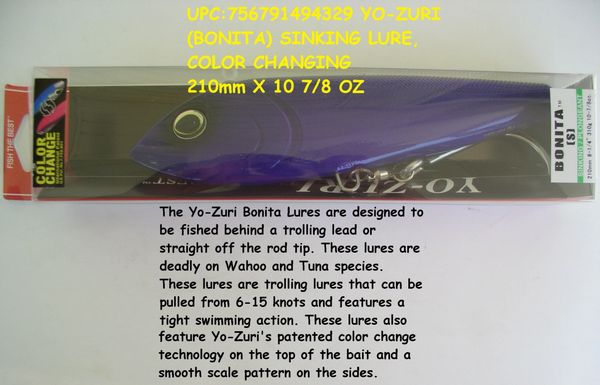 YO-ZURI (BONITA) SINKING LURE, COLOR CHANGING 210mm X 10 7/8 OZ
YO-ZURI (BONITA) SINKING LURE, COLOR CHANGING 210mm X 10 7/8 OZ
Description

The Yo-Zuri Bonita Lures are designed to be fished behind a trolling lead or straight off the rod tip. These lures are deadly on Wahoo and Tuna species. These lures are trolling lures that can be pulled from 6-15 knots and features a tight swimming action. These lures also feature Yo-Zuri's patented color change technology on the top of the bait and a smooth scale pattern on the sides.

UPC:756791494329
MORE SALTWATER LURES FROM LAND OF LURES  

Remember FREE Shipping on orders of $25 or more!