Yo-Zuri 3DB Series Jerkbait #R1103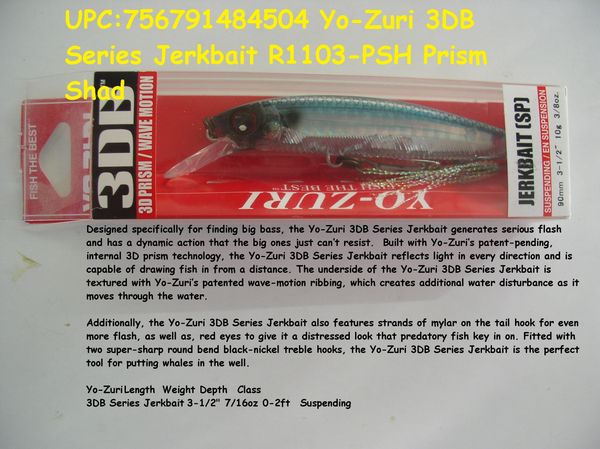 Yo-Zuri 3DB Series Jerkbait #R1103
Yo-Zuri 3DB Series Jerkbait #R1103
Description

Equipped with a durable, polycarbonate prop at the rear, the Yo-Zuri 3DB Series Prop delivers a churning surface commotion and a dazzling flash. Walk it along the surface and watch the Yo-Zuri 3DB Series Prop light up the surrounding waters with its patent-pending internal 3D prism construction. UPC:756791484504
The Yo-Zuri 3DB Series Prop also features patented wave-motion ribbing and an internal rattle system that delivers a one-two punch of vibration and tonal agitation. To give it a more vulnerable, injured look, the Yo-Zuri 3DB Series Prop is designed with red eyes that make it more enticing to bass. Fitted with two super-sharp round bend black-nickel treble hooks, the Yo-Zuri 3DB Series Prop will definitely help your fish counts take flight.
Yo-Zuri Length Weight Class
3DB Series Prop 3-1/2" 7/16oz Topwater
Remember FREE Shipping on orders of $25 or more!