YAKIMA WORDEN'S VIBRIC ROOSTER TAIL SPINNER BAIT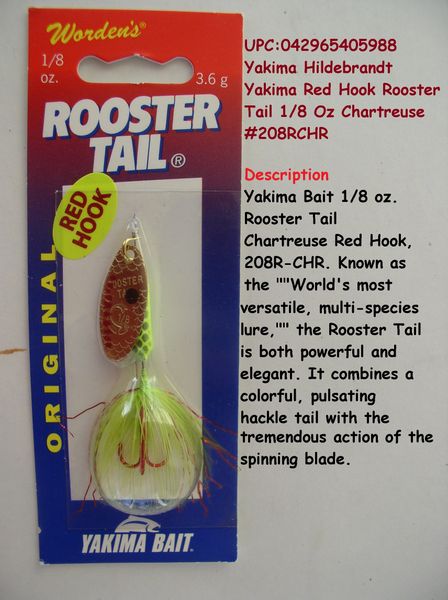 YAKIMA WORDEN'S VIBRIC ROOSTER TAIL SPINNER BAIT
YAKIMA WORDEN'S VIBRIC ROOSTER TAIL SPINNER BAIT
FOLLOW ME ON TWITTER
Typically ships within 1 to 4 Hours!
Description:

The big-time vibration of Worden's Vibric Rooster Tail from Yakima Bait packs plenty of punch for taking on all kinds of game fish. With a shaft-through-blade design, this inline spinner creates noisy underwater vibration that calls to trout, bass, steelhead, salmon, and other gamefish. The offset body even helps prevent line twists. The Yakima Worden's Vibric Rooster tail is the perfect tool for landing your next trophy.
UPC:042965419558, UPC:042965365848, UPC:042965017297, UPC:042965101552, UPC:042965405988, UPC:042965010847

FEATURES:
Noise-producing blade attracts fish
Offset body helps reduce line twist
EZ Spin blade design keeps blade moving smoothly
Shaft-through-blade design
#12 treble hook on 1/16 oz. models
#10 treble hook on 1/8 oz. models
Yakima Bait
Country of Origin: Mexico
Web ID: 61241226
PRICES ARE BASED ON WHAT I PAY + 10% PER ITEM, SO PRICES MAY VARY FROM ORDER TO ORDER THANK YOU KEN