XTools 6.5" Floating Pliers OR Bass Pro Pliers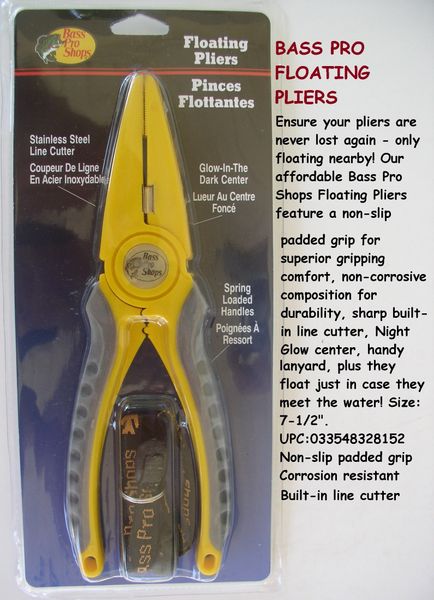 XTools 6.5" Floating Pliers OR Bass Pro Pliers
XTools 6.5" Floating Pliers OR Bass Pro Pliers
I am out here are some good pliers thanks Ken floatingpliers.com
CUTS BRAID LINE

Product Details
XTools 6.5" Floating Pliers.
This 6" fishing pliers is very handy and it floats! Choose from Bullnose or Bentnose
The Floating Pliers are designed with the avid fisherman in mind. The ratios of composite materials in the pliers are engineered to ensure strength and durability. The tungsten carbide cutting system has been specially designed to cut braided line
Floats - no need to worry about dropping it overboard!
Great for fishing & boating
Cuts Braided Line
Soft Grip Handles
Light Weight
High Visibility
Comes with a Safety Lanyard
Overall length: 6.5"
UPC:891034000025, UPC:400005656880, UPC:047708713825

Brand: XTools
Product Category: Tools & Knives
Condition: New
BASS PRO FLOATING PLIERS
Ensure your pliers are never lost again - only floating nearby! Our affordable Bass Pro Shops® Floating Pliers feature a non-slip padded grip for superior gripping comfort, non-corrosive composition for durability, sharp built-in line cutter, Night Glow center, handy lanyard, plus they float just in case they meet the water! Size: 7-1/2". UPC:033548328152
Non-slip padded grip
Corrosion resistant
Built-in line cutter
Web ID: 52286
SKU: 1003668
HURRICANE PLIERS & WIRE CUTTER

Description
6IN (15.4cm) Stainless steel needle nose pliers6IN (15.4cm) High carbon wire cutters Stainless steel Double dipped EVA sure-grip handles Easy access denier waterfall sheath with belt loop attachment
6IN (15
4cm) Stainless steel needle nose pliers
Hurricane
Made of the highest quality materials

Fishing tools pliers
Another quality Hurricane product
Specifications
Dimensions 1.6 x 11.8 x 3.8 inches
Eagle Claw Multi-Function Long Nose Pliers UPC:047708713825

Description
Multi-Function Long Nose Pliers are versatile and reliable, making them an essential tool to have on hand while you are fishing. These pliers are made with a corrosion resistant micro satin finish for lasting durability. In addition, they have a long design that helps for removing hard to get hooks. The Eagle Claw® Multi-Function Long Nose Pliers are 8" in length.
FEATURES:
Corrosion resistant micro satin finish
Long design
8'' length
Multi-functional
Micro-finish
Brand: Eagle Claw
Country of Origin: Imported