WINCHESTER WINFRAME MULTI-TOOL INCLUDES SHEATH & 9-PC BIT SET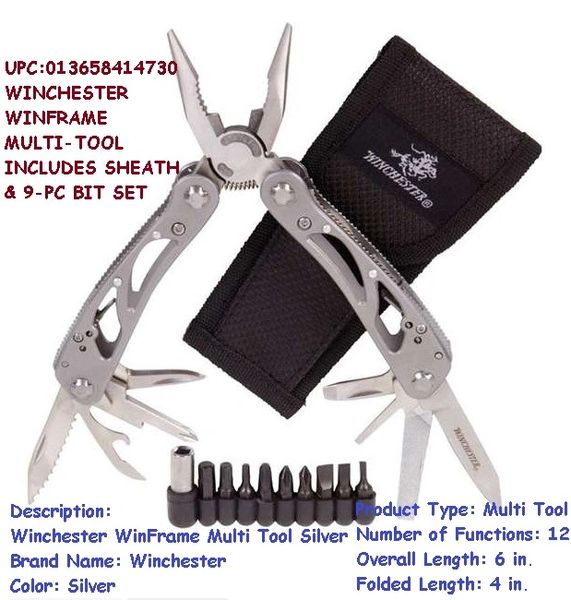 WINCHESTER WINFRAME MULTI-TOOL INCLUDES SHEATH & 9-PC BIT SET
WINCHESTER WINFRAME MULTI-TOOL INCLUDES SHEATH & 9-PC BIT SET
Description:
Keep a Winchester Win frame multitool on your belt or in your car and always be prepared. This sturdy tool is loaded with practical uses. From around the house quick fixes to car repairs and campout catastrophes, your Winchester can save the day. Screwdrivers, pliers, and 2 knife blades snap into action when you need to take control of a situation. The rounded edges of the Win frame's contoured handle give you a solid grip when seeing to the task at hand. Includes sheath and 9-piece bit set. Box packaging. No. 22-01473: Number Of Tools: 9 tools, Pkg Qty: 1, Package Type: Card    UPC:013658414730
MORE PLIERS FROM LAND OF LURES   
Specifications:
Manufactured By Gerber Legendary Blades     
Sold By Hip Modern Builders Supply 
Size/Weight W 0" / D 0" / H 0" / 1.05 lb.
Category Hand Tools And Tool Sets     
Style Contemporary
Remember FREE Shipping on orders of $25 or more!