WILD EYE SWIM SHAD #WSS06 (SIZE- 6 IN.)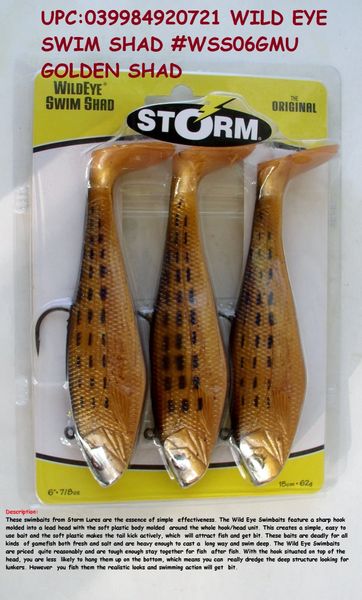 WILD EYE SWIM SHAD #WSS06 (SIZE- 6 IN.)
WILD EYE SWIM SHAD #WSS06 (SIZE- 6 IN.)
Typically ships within 1 to 4 Hours!
Description
Tough, yet soft outer body, to give it the feel that matches the life-like swimming action. Internal weights for ideal swimming action and long casting. Paired with a variety of colors and patterns with holographic swimming' flash foil for added visibility. I-Bolt Holographic Wild Eye. Fish don't stand a chance. 3 per pack. UPC:039984920721

Features:
Secure I-Bolt holographic Wild Eye
Life-like swimming action
Holographic swimming' flash foil
Tough, yet soft outer body
Weighted internally, for ideal swimming action
Specifications:
#WSS06
Body Length - 6"
Weight - 7/8 oz.
PRICES ARE BASED ON WHAT I PAY + $0.50 PER ITEM, SO PRICES MAY VARY FROM ORDER TO ORDER THANK YOU KEN