WAR EAGLE FINESSE SPINNERBAIT #NFIN22 TB 5/16 OZ. MADE IN USA (SEXXY MOUSE)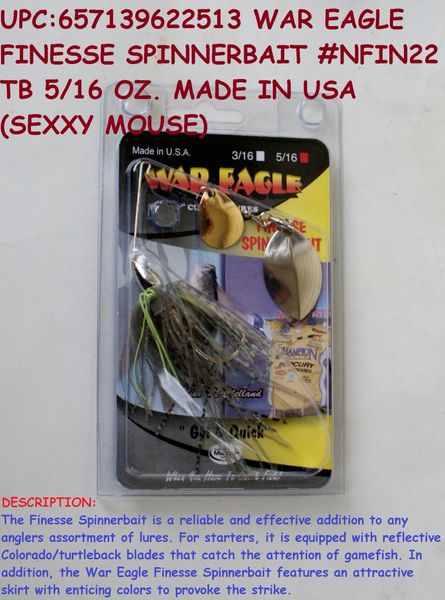 WAR EAGLE FINESSE SPINNERBAIT #NFIN22 TB 5/16 OZ. MADE IN USA (SEXXY MOUSE)
WAR EAGLE FINESSE SPINNERBAIT #NFIN22 TB 5/16 OZ. MADE IN USA (SEXXY MOUSE)
DESCRIPTION:
The Finesse Spinnerbait is a reliable and effective addition to any anglers assortment of lures. For starters, it is equipped with reflective Colorado/turtleback blades that catch the attention of gamefish. In addition, the War Eagle Finesse Spinnerbait features an attractive skirt with enticing colors to provoke the strike. UPC:657139622513
MORE SPINNERBAITS FROM LAND OF LURES  
TRAILER HOOKS FROM LAND OF LURES  
REPLACEMENT SKIRTS FROM LAND OF LURES  

FEATURES:

Colorado/turtleback blades
Attractive skirt
Enticing color
Brand: War Eagle Lures
Style: WA516TBGFIN1, WA516TBGFIN4, WA516TBNFIN8
Remember FREE Shipping on orders of $25 or more!