USED SHIMANO #CUDC150XG WITH A ABU GARCIA VERITAS BAITCAST ROD #VTSC70-6 COMBO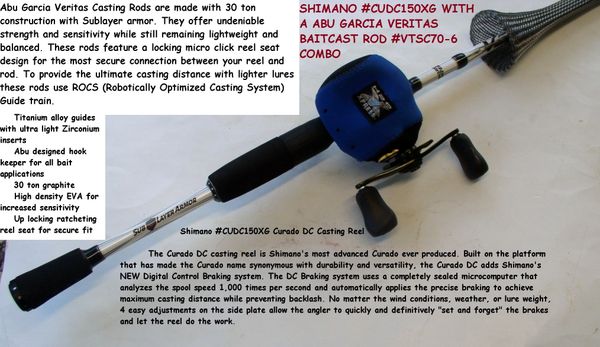 USED SHIMANO #CUDC150XG WITH A ABU GARCIA VERITAS BAITCAST ROD #VTSC70-6 COMBO
USED SHIMANO #CUDC150XG WITH A ABU GARCIA VERITAS BAITCAST ROD #VTSC70-6 COMBO
FOR INTERNATIONAL SHIPPING QUOTES EMAIL ME AT eatfish97landoflures@outlook.com

FOLLOW ME ON TWITTER
Typically ships within 1 to 4 Hours!
USED TWO TIMES

Rod Description:

Abu Garcia Veritas Casting Rods are made with 30 ton construction with Sublayer armor. They offer undeniable strength and sensitivity while still remaining lightweight and balanced. These rods feature a locking micro click reel seat design for the most secure connection between your reel and rod. To provide the ultimate casting distance with lighter lures these rods use ROCS (Robotically Optimized Casting System) Guide train.
ANY USED ROD & REEL IS CAN BE RENTED FROM MY STORE FOR $5 A DAY, THERE WILL BE A DEPOSIT THANKS KEN
Features:
    Titanium alloy guides with ultra light Zirconium inserts
    Abu designed hook keeper for all bait applications
    30 ton graphite
    High density EVA for increased sensitivity
    Up locking ratcheting reel seat for secure fit
Abu Garcia Veritas Rods: A Blend of Truth, Nanotechnology, Performance and Affordability
Introduction: With the introduction of the Vengeance and Vendetta, we kind of knew where Abu Garcia was going with their rods and the strategy makes sense. Anglers today are looking for that one rod with appeal and performance, and at the same time it has to be at the correct price range. Already seen on our TackleTour Forum, Abu Garcia will soon be revealing a new affordable rod named Veritas. This new bass rod will be one notch higher than the Vendetta but still have a great price of under $100. Let's see what this new "next generation" rod is all about.
Introducing the new 2010 Abu Garcia Veritas 
The Concept: Before getting into the fine details of the rod itself, we spoke to Jim Coble, Product Manager at Pure Fishing who was the head designer of the Veritas bass rod. He stated that with this rod, they, meaning the team at Abu Garcia, was simply trying to give consumers an honest product without all the marketing hype, and big margins. In his own words, "We're not looking to cheat anyone of their money." The name and color has its own story too. The word "Veritas" stands for truth in Latin, hence the color of white as in purity, or honesty as mentioned earlier on why Abu Garcia decided to make this rod for anglers. If any other manufacturer made this rod, it would have sold for a lot more.
Designed for the next generation 
The Design: This rod is not yet complete. In fact, what you've seen out there thus far including the photos in this preview are of a rod at its developing stages. This prototype is under constant refinement with the complete design scheduled to debut this July at ICAST. Michael Iaconelli will be fishing this rod at the Bassmaster Classic tournament coming in a couple of weeks. Most will wonder what rod he is fishing with, but after this inside scoop, now you will know. 
Abu Garcia is working with a new components manufacturer named Evolve to source parts for the Veritas 
The Veritas rod is constructed out of 30 Ton graphite with Nanotechnology infused resin. With this combination Abu Garcia was able to reduce weight and increase compression strength by just over 20% compared to say standard graphite. 
Nanotechnology is being used on this $100 rod which reduces its overall weight and increases compression strength by just over 20% 
Component wise Abu Garcia is working with a new company called Evolve which will produce parts to their specification. The guides on this prototype rod are the first thing that will be changed. It will be a much lower profile frame than now but will still be Titanium Alloy with thin SiC inserts. The reel seat is actually 100% proprietary to Abu Garcia and is an in-house design and tooling. The reel seat locking mechanism is made of aluminum and made to match the rod nicely. The trigger is minimal so an angler gets maximum contact to the rod blank when fishing for greater sensitivity.
A view of the aluminum butt cap 
Abu Garcia did not pick the color white out of a hat. They looked at the history of rod colors and the two most common classic colors were black and white. And as mentioned earlier the name Veritas, truth, purity, and white all go together. BMW owners might appreciate this as the white isn't just any white. This is actually the same BMW car paint color called Alpine White III (color code 300). If you look at the overall rod and it's color scheme, it's very attractive compared to say the unnamed white rods with clear guide wraps. The black wraps on the guides on the Veritas along with the unique handle and graphics put on the blank all give it a nice appeal.
Split rear grip and dense EVA foam further reduces the rod's weight 
The final production rod will be much lighter than the prototype and will be adjusted so the balance point is right at your hands. To reduce weight the rod does use a dense EVA foam on the split rear handle. 
The guides shown will not be on the production rod as the final will have lower profile guide frames 
The Veritas rods will have a total of 13 models - 8 casting and 5 spinning and all will retail for a very aggressive $99.95. 
Double anodized aluminum lock nut and a reel seat design that provides maximum exposure to the blank for greater sensitivity 
Conclusion: The Veritas, again is at its pre-production stages. Fine tuning is underway to refine the guides, reduce weight, improve graphics, and adjust balance points. Further, you can be sure Iaconelli will be providing his feedback on these rods after the 2010 Bassmaster Classic. The prototype rods are already pretty sweet in terms of design and price point. We can't wait to catch a few bass on this new prototype rod to see how it actually fishes, and also to see the final production rod that will be introduced at ICAST this summer and available in stores September 1, 2010 - just in time to squeeze into our "Search For One" roundup.
ANY USED ROD & REEL IS CAN BE RENTED FROM MY STORE FOR $5 A DAY, THERE WILL BE A DEPOSIT THANKS KEN

Reel Description:
The Curado DC casting reel is Shimano's most advanced Curado ever produced. Built on the platform that has made the Curado name synonymous with durability and versatility, the Curado DC adds Shimano's NEW Digital Control Braking system. The DC Braking system uses a completely sealed microcomputer that analyzes the spool speed 1,000 times per second and automatically applies the precise braking to achieve maximum casting distance while preventing backlash. No matter the wind conditions, weather, or lure weight, 4 easy adjustments on the side plate allow the angler to quickly and definitively "set and forget" the brakes and let the reel do the work.

Shimano Technology Found In Curado DC Reels :

    Cross Carbon Drag - Allows for a wider range of drag settings, enhanced drag washer durability, and the smoothest Shimano drag performance ever.
    Hagane Body - A reel body with high rigidity, which virtually eliminates body flexing due to it's stiffness and impact resistance. The result? An angler's actions are more efficiently transformed into cranking power. It's efficiency through strength.
    I-DC4 Braking - Intelligent Digital Control braking features an easy to use 4 setting external dial that can be easily adjusted on the water to provide optimal braking as conditions and lures change.
    Micro Module Gear - State-of-the-art gear design makes use of smaller gear teeth and more of them, which results in a more efficient gear train and much smoother retrieve.
    S A-RB Bearings - These bearings undergo the same anti-corrosion process as Shimano's A-RB Bearings, with the addition of shields on both sides of the bearings to reduce the possibility of salt, dirt, or other foreign objects inhibiting the bearing's rotation.
    X-Ship - By supporting the pinion gear on both ends with bearings, the pinion gear remains in precise alignment with the drive gear and stays in the same position under even the heaviest of loads. This eliminates friction between the spool shaft and gear which translates to better casting performance and increased gear durability.

PRICES ARE BASED ON WHAT I PAY + 10% PER ITEM, SO PRICES MAY VARY FROM ORDER TO ORDER THANK YOU KEN