USED DeVilbiss Md:GB5000-2 Type 2 Generator Ser:No. 9712043162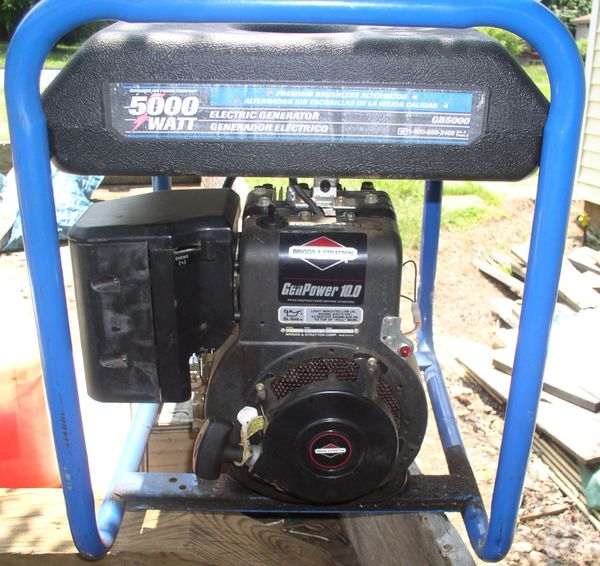 USED DeVilbiss Md:GB5000-2 Type 2 Generator Ser:No. 9712043162
USED DeVilbiss Md:GB5000-2 Type 2 Generator Ser:No. 9712043162

THIS ITEM IS PICK ONLY UNLESS WE MAKE ARRANGEMENTS WITH SELLER

**THIS IS A USED UNIT.**SOLD AS IS.**
DESCRIPTION
DeVilbiss GB5000-2
5000 watt / 6250 watt surge
Premium BRUSHLESS Generator / Alternator

Rated Watts 5000, Surge Watts 6250.
Premium alternator features brushless design, skewed laminations, dampener bars, metal bearing supports and ball bearing for high efficiency, low current distortion, and long life.
Briggs & Stratton engine features:
• Pleated-paper air filter for long life.
• Electronic ignition, compression release and recoil start for ease of operation.
•Full frame frame protects generator from impacts.
•Rubber isolators reduce vibration and eliminate crawl.
•Circuit breaker protection safeguards against damage to electric appliances.
I HAVE USED IT THREE TIMES DURING ICE STORM TO RUN MY SERVER AND TWO PCs

Remember FREE Shipping on orders of $25 or more!