USED ACADEMY SPORTS GOLD UGLY STIK #USCACATSPEC802MH CATFISH SPECIAL COMBO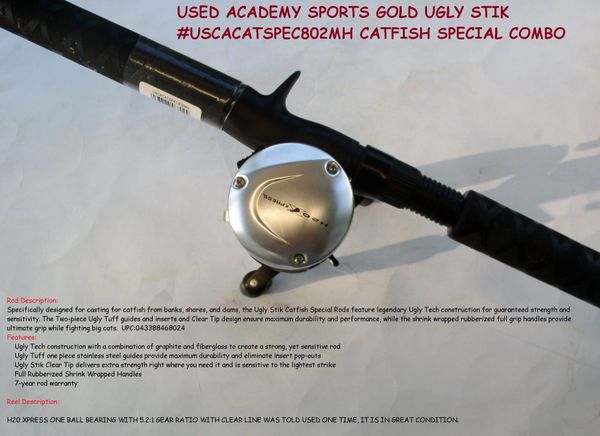 USED ACADEMY SPORTS GOLD UGLY STIK #USCACATSPEC802MH CATFISH SPECIAL COMBO
USED ACADEMY SPORTS GOLD UGLY STIK #USCACATSPEC802MH CATFISH SPECIAL COMBO

FOLLOW ME ON TWITTER
Typically ships within 1 to 4 Hours!

Rod Description:
Specifically designed for casting for catfish from banks, shores, and dams, the Ugly Stik Catfish Special Rods feature legendary Ugly Tech construction for guaranteed strength and sensitivity. The Two-piece Ugly Tuff guides and inserts and Clear Tip design ensure maximum durability and performance, while the shrink wrapped rubberized full grip handles provide ultimate grip while fighting big cats.  UPC:043388468024
ANY USED ROD & REEL IS CAN BE RENTED FROM MY STORE FOR $5 A DAY, THERE WILL BE A DEPOSIT THANKS KEN
Features:
    Ugly Tech construction with a combination of graphite and fiberglass to create a strong, yet sensitive rod
    Ugly Tuff one piece stainless steel guides provide maximum durability and eliminate insert pop-outs
    Ugly Stik Clear Tip delivers extra strength right where you need it and is sensitive to the lightest strike
    Full Rubberized Shrink Wrapped Handles
    7-year rod warranty
Reel Description:
H20 XPRESS ONE BALL BEARING WITH 5.2:1 GEAR RATIO WITH CLEAR LINE WAS TOLD USED ONE TIME, IT IS IN GREAT CONDITION.
PRICES ARE BASED ON WHAT I PAY + 10% PER ITEM, SO PRICES MAY VARY FROM ORDER TO ORDER THANK YOU KEN