Trokar Mag Swimbait Hook Wgtd Plat Black TK170 7/0 (3/8oz)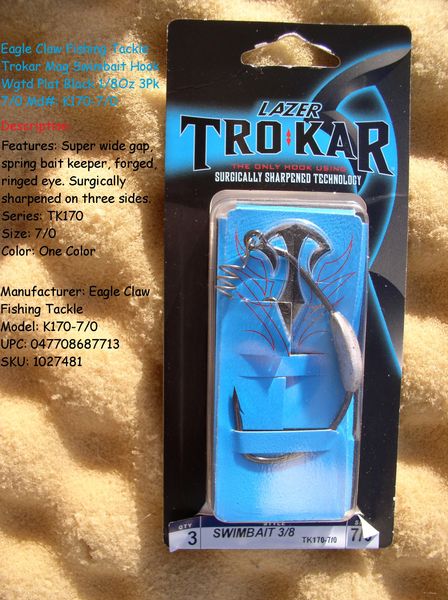 Trokar Mag Swimbait Hook Wgtd Plat Black TK170 7/0 (3/8oz)
Trokar Mag Swimbait Hook Wgtd Plat Black TK170 7/0 (3/8oz)


Description:
The TK Magnum Swim bait hooks are the beefiest and stoutest on the market. Made to withstand the brutal forces exerted by a Skeet Reese hook-set, the TK160 will be sure to take what you can dish out. Whether using a creature-bait, swim bait or big tube, these rude boys offer the bait clearance needed to properly drive the TroKar point home. The TK170 offers anglers a weighted version, expertly fashioned to keep the bait in the strike zone and the rod bent. Perfect for a wide variety of bulky plastics.
UPC:047708687713


Features: Super wide gap, spring bait keeper, forged, ringed eye. Surgically sharpened on three sides.

TK160
3/0- 3 per pack
5/0- 3 per pack
7/0- 3 per pack
9/0- 2 per pack
TK170
3/0 (1/8oz)- 3 per pack
5/0 (1/4oz)- 3 per pack
7/0 (3/8oz)- 3 per pack
9/0 (1/2oz)- 2 per pack
Remember FREE Shipping on orders of $25 or more!