TRIK FISH #25FLS10001 FLUOROCARBON LEADER 100 Lb.Test 25 Yard WRIST SPOOL CLEAR FISHING LINE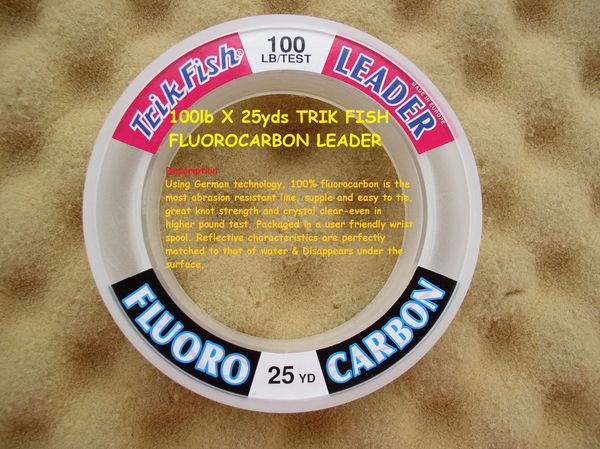 TRIK FISH #25FLS10001 FLUOROCARBON LEADER 100 Lb.Test 25 Yard WRIST SPOOL CLEAR FISHING LINE
TRIK FISH #25FLS10001 FLUOROCARBON LEADER 100 Lb.Test 25 Yard WRIST SPOOL CLEAR FISHING LINE
FOLLOW ME ON TWITTER
Typically ships within 1 to 4 Hours!
Description:
Using German technology, 100% fluorocarbon is the most abrasion resistant line, supple and easy to tie, great knot strength and crystal clear-even in higher pound test. Packaged in a user friendly wrist spool. Reflective characteristics are perfectly matched to that of water & Disappears under the surface.
UPC:821901831001

PRICES ARE BASED ON WHAT I PAY + 10% PER ITEM, SO PRICES MAY VARY FROM ORDER TO ORDER THANK YOU KEN