TRAK JAX RACE RAMPS MODEL #RR-TJ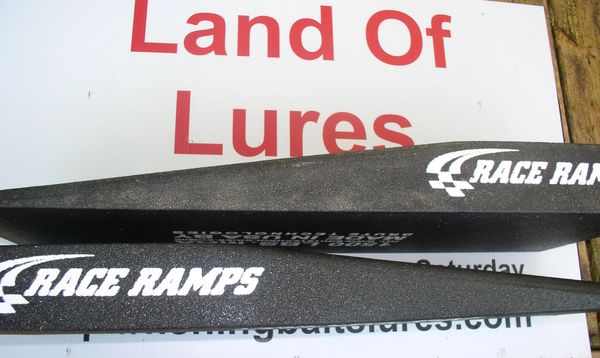 TRAK JAX RACE RAMPS MODEL #RR-TJ
TRAK JAX RACE RAMPS MODEL #RR-TJ
(A CAR SAT ON THESE FOR TWO MONTHS LIKE NEW)
Description

Trak-Jax ramps were inspired by an auto-crosser who didn't want to buy a new high-priced, low-profile jack just to change his tires at the track. These ramps lift your car 3″ so that you can fit a standard floor jack underneath. They're small and lightweight, so you can easily toss them in the trunk of your sports car for your day at the track. They are without a 1.5" stop.
Trak-Jax are 100% solid, made with a high-density expanded polystyrene that is coated with a hybrid polyurea. This patented process results in a product that is extremely lightweight, yet strong and durable. Trak-Jax will not slide, scratch, or otherwise damage any floor type. When buying directly from this site, Proudly handmade in the USA!
MODEL RR-TJ

PRICE $100.00
QUANTITY 2
LENGTH 30in
WIDTH 12in
HEIGHT 3in
WEIGHT 5 lbs. per ramp
APPROACH ANGLE 7.8 degrees
WEIGHT CAPACITY 1,500 lbs. per ramp
Remember FREE Shipping on orders of $25 or more!