TOWSMART #1421 ELECTRICAL SPLICE CONNECTORS WITH 4 WAY FLAT 18 INCH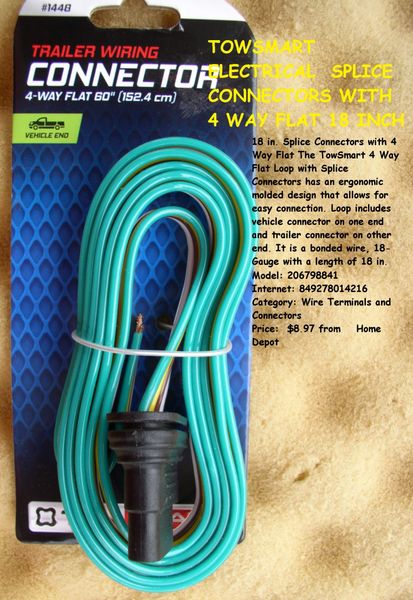 TOWSMART #1421 ELECTRICAL SPLICE CONNECTORS WITH 4 WAY FLAT 18 INCH
TOWSMART #1421 ELECTRICAL SPLICE CONNECTORS WITH 4 WAY FLAT 18 INCH
FEATURES

18 in. Splice Connectors with 4 Way Flat The TowSmart 4 Way Flat Loop with Splice Connectors has an ergonomic molded design that allows for easy connection. Loop includes vehicle connector on one end and trailer connector on other end. It is a bonded wire, 18-Gauge with a length of 18 in.
Model: 206798841
UPC:849278014216
Category: Wire Terminals and Connectors
Price: $8.97 from Home Depot
Remember FREE Shipping on orders of $25 or more!