THREE-YO-ZURI SALTWATER/FRESHWATER LURES CRYSTAL 3D, PENCIL F, SHRIMP SINKING, PERFECT SALT PATTERNS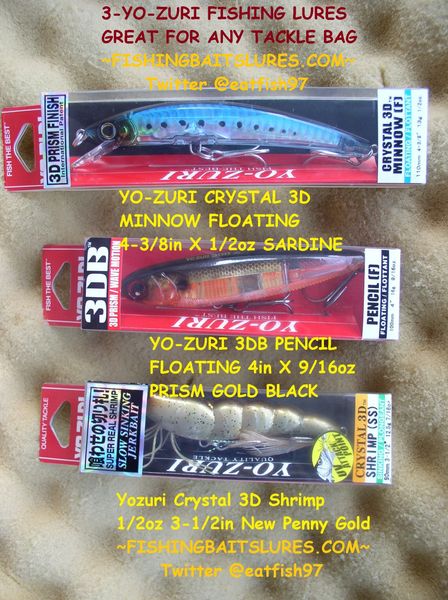 THREE-YO-ZURI SALTWATER/FRESHWATER LURES CRYSTAL 3D, PENCIL F, SHRIMP SINKING, PERFECT SALT PATTERNS
THREE-YO-ZURI SALTWATER/FRESHWATER LURES CRYSTAL 3D, PENCIL F, SHRIMP SINKING, PERFECT SALT PATTERNS

Description

Yo-Zuri Crystal 3D Minnow Floating 4-3/8in SardineInternationally Patented Internal 3D Prism FinishRattle ball sound systemSaltwater grade tin hooksHighly detailed design-Life like gill platesUnique erratic swimming actionPolycarbonate bodyStainless steel split rings
UPC:756791485723, UPC:756791421226, UPC:756791474468
ID Type F1146Lure
Length (in) 4-3/8
Length (mm)110.00
Weight (oz)1/2oz
Weight (g) 13.000
Yo-zuri 3DB Pencil:

The Yo-zuri 3DB Pencil is a top-of-the-line, topwater, "Walk the Dog" style lure. The Internal 3D Prism Finish or New Painted Finish and rear placement, one-knock cadence rattle gives this lure its back-and-forth swimming action, in addition to its ability to cast long distances even into a strong wind. A favorite of fisherman aiming for Big Bass or inshore saltwater
species.

•Internationally Patented Internal 3D Prism Finish And New Painted Finish
•Wave Motion Technology
•Round Bend Black Nickel Hooks
•One-Knock Cadence Rattle
•Easy To "Walk The Dog"
•Rear Weight Allows The 3DB Pencil To Fly Straight And Cast Farther.
•Strong Polycarbonate Body
ID Type R1100 Lure
Length (in)3/8oz
Length (mm) 100
Weight (oz) 9/16
Weight (g)16.00
Crystal 3D Shrimp:

One of the hottest lures to hit the In-Shore scene in years is the Crystal 3D Shrimp. It simply is the most realistic Shrimp pattern ever developed. The mold was taken directly from a natural Shrimp, so every detail is as lifelike as possible. It has bee
Manufacturer: Yo-Zuri

Model: F988-NPGF
Remember FREE Shipping on orders of $25 or more!