Three Blue Fox Foxtail Super Vibrax Spinners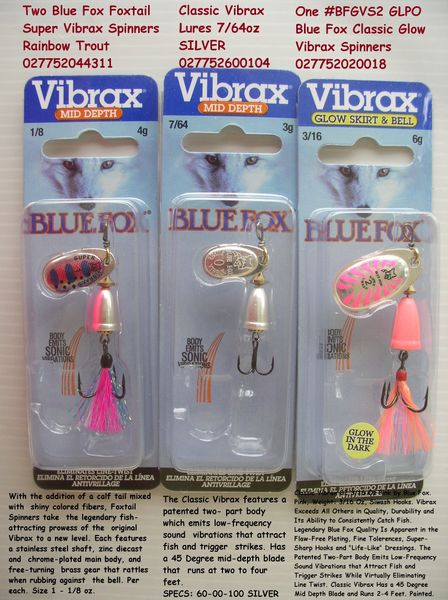 Three Blue Fox Foxtail Super Vibrax Spinners
Three Blue Fox Foxtail Super Vibrax Spinners

Description

One Blue Fox Classic Glow Vibrax Spinners Classic Vibrax 02 3/16 Oz Pink by Blue Fox. Pink, Weight: 3/16 Oz, Siwash Hooks. Vibrax Exceeds All Others in Quality, Durability and Its Ability to Consistently Catch Fish. Legendary Blue Fox Quality Is Apparent in the Flaw-Free Plating, Fine Tolerences, Super-Sharp Hooks and "Life-Like" Dressings. The Patented Two-Part Body Emits Low-Frequency Sound Vibrations that Attract Fish and Trigger Strikes While Virtually Eliminating Line Twist. Classic Vibrax Has a 45 Degree Mid Depth Blade and Runs 2-4 Feet. Painted.
UPC:027752020018, UPC:027752600104, UPC:027752044311

Features:
Made with precision and quality in mind
Built to last
Designed to meet your specific needs
Brand:Blue Fox
Part Number:64-20-465IC
Blue Fox Foxtail Super Vibrax Spinners Rainbow Trout 
Shiny colored calf tail for added attraction Proven Vibrex rattle design With the addition of a calf tail mixed with shiny colored fibers, Foxtail Spinners take the legendary fish-attracting prowess of the original Vibrax to a new level. Each features a stainless steel shaft, zinc diecast and chrome-plated main body, and free-turning brass gear that rattles when rubbing against the bell. Per each. Size 1 - 1/8 oz.
Classic Vibrax Lures 7/64oz SILVER 
The Classic Vibrax features a patented two-part body which emits low-frequency sound vibrations that attract fish and trigger strikes. Has a 45 Degree mid-depth blade that runs at two to four feet.
SPECS: 60-00-100 SILVER
Remember FREE Shipping on orders of $25 or more!