TERMINATOR WALKING FROG (#TWF3312 LIME LEOPARD) MAXIMUM GAP BETWEEN BODY & HOOK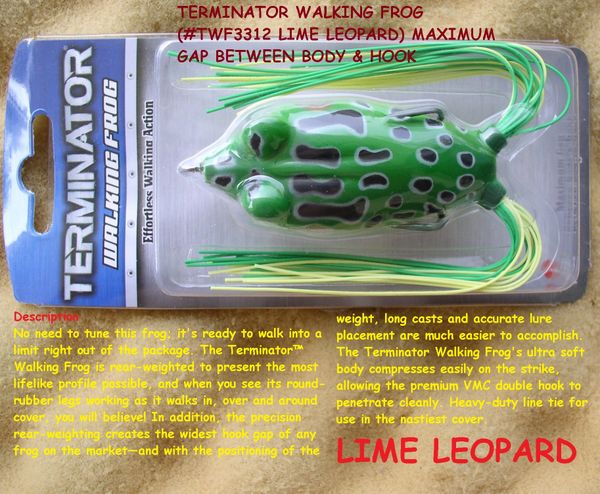 TERMINATOR WALKING FROG (#TWF3312 LIME LEOPARD) MAXIMUM GAP BETWEEN BODY & HOOK
TERMINATOR WALKING FROG (#TWF3312 LIME LEOPARD) MAXIMUM GAP BETWEEN BODY & HOOK
Description
No need to tune this frog; it's ready to walk into a limit right out of the package. The Terminator Walking Frog is rear-weighted to present the most lifelike profile possible, and when you see its round-rubber legs working as it walks in, over and around cover, you will believe! In addition, the precision rear-weighting creates the widest hook gap of any frog on the market—and with the positioning of the weight, long casts and accurate lure placement are much easier to accomplish. The Terminator Walking Frog's ultra soft body compresses easily on the strike, allowing the premium VMC double hook to penetrate cleanly.
UPC:0783136106821
Heavy-duty line tie for use in the nastiest cover.
Ready to walk right out of the package
Rear-weighted for a lifelike profile
Widest hook gap available
Casts long and accurate
Ultra-soft body with round rubber legs
VMC double hook

LIME LEOPARD
Buoyancy:Floating
Hook Size:4/0
Max Diving Depth:0'
Model:TWF3312
Remember FREE Shipping on orders of $25 or more!