Terminator TITANIUM 10" inch Umbrella Rig TTR10#02 CHARTREUSE WHITE SHAD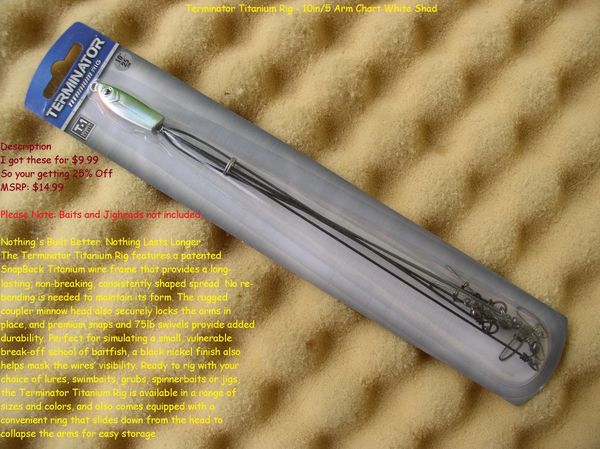 Terminator TITANIUM 10" inch Umbrella Rig TTR10#02 CHARTREUSE WHITE SHAD
Terminator TITANIUM 10" inch Umbrella Rig TTR10#02 CHARTREUSE WHITE SHAD

Terminator Umbrella Rigs allow anglers to display multiple lures or baits simulating a small vulnerable breakoff school of bait. Available in classic stainless steel models and an indestructible unbendable titanium model.
UPC:783136104742
Features a Rugged Coupler Minnow Head that Securely Locks Arms in Place

Rigged with Premium Snaps and 75 lb. Barrel Swivels. Black Nickel Finish Helps Mask the Wire Visibility.
Perfectly Simulates a Small Vulnerable Break-Off School of Baitfish. Long Center Arm Imitates lagging baitfish.
Allows Angler to Throw Five Baits at Once Increasing the Chance for Multiple Fish at a Time. Ready to Rig with Your Choice of Lures Swimbaits Grubs Spinnerbait or Jigs.
Slide the Stainless Steel Ring Down from the Head to Collapse Arms for Easy Storage. 65 lb. Test 832 Advanced Superline is recommended line for best results.
Terminator Umbrella Rigs with Ott DeFoe ICAST 2012 https://youtu.be/qUOmollqxV4

Remember FREE Shipping on orders of $25 or more!