TERMINATOR T38CW18NG T1 ORIGINAL TITANIUM SPINNER BAIT 3/8 OZ HOT TIP CHARTREUSE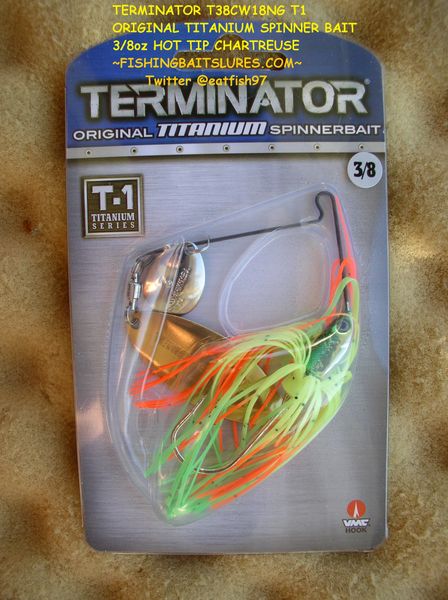 TERMINATOR T38CW18NG T1 ORIGINAL TITANIUM SPINNER BAIT 3/8 OZ HOT TIP CHARTREUSE
TERMINATOR T38CW18NG T1 ORIGINAL TITANIUM SPINNERBAIT 3/8 OZ HOT TIP CHARTREUSE
Typically ships within 1 to 4 Hours!

Description:

Streamlined collection is focused on the core must-have colors and blade combinations.
Patented SnapBack Titanium frame provides the truest-running, longest-lasting spinner bait.
Realistic metallized bait fish head design.
Painted, gold or nickel plated blades.
Quick Skirt changeable premium silicone skirt.
Premium ball bearing swivel.
Exclusive beveled edge blade design creates more flash and bait fish look in the water.
Premium VMC hook. 
UPC:783136101390, UPC:783136101628, UPC:783136102366, UPC:783136102120
MORE TERMINATOR LURES FROM LAND OF LURES  

PRICES ARE BASED ON WHAT I PAY + $0.50 PER ITEM, SO PRICES MAY VARY FROM ORDER TO ORDER THANK YOU KEN