Terminator Super Stainless 10" inch Umbrella Rig Chartreuse White Shad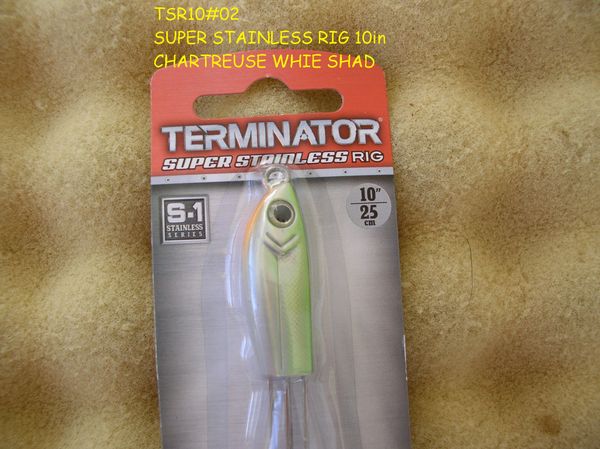 Terminator Super Stainless 10" inch Umbrella Rig Chartreuse White Shad
TERMINATOR SUPER STAINLESS UMBRELLA RIG TSR103#02 Chartreuse White Shad
Designed to target Trout, Snook, and Redfish. Extreme erratic action. Twitch with a slow cadence or aggressive retrieve. Floating or suspending. Wire-thru. Electro-plate or ghost finishes.

UPC:783136104629
Cast and retrieve with short and erratic twitch-like motions. Try twitch-twitch-twitch-pause.
Terminator Umbrella Rigs allow anglers to display multiple lures or baits, simulating a small, vulnerable breakoff school of bait. Available in classic stainless steel models and a virtually indestructible, unbendable titanium model.

Please check your local and state laws before using this type of rig.

Terminator Umbrella Rigs with Ott DeFoe ICAST 2012 https://youtu.be/qUOmollqxV4
Remember FREE Shipping on orders of $25 or more!