STRIKE KING SHADALICIOUS #SHDLC5.5in SHAD SHAPE SOFT HOLLOW SWIM BAIT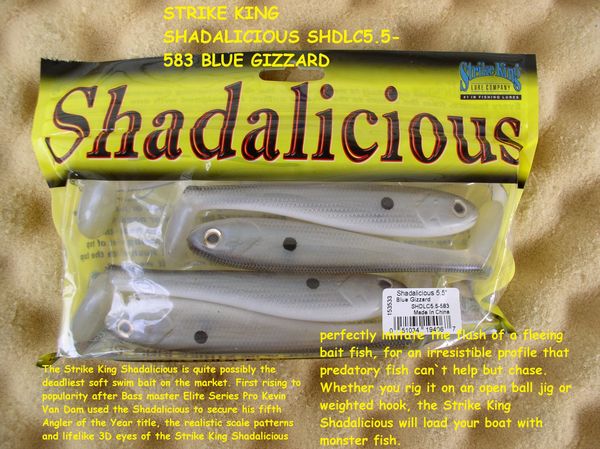 STRIKE KING SHADALICIOUS #SHDLC5.5in SHAD SHAPE SOFT HOLLOW SWIM BAIT
STRIKE KING SHADALICIOUS #SHDLC5.5in SHAD SHAPE SOFT HOLLOW SWIM BAIT

The Shadalicious
Swim bait is designed for the
discriminating fisherman. Every feature, from the action to the
lifelike colors, is designed with one thing in mind.....
To Catch More and Bigger Fish! Rig on either an
open jig head, internal jig head or with a weighted hook and
fish with a slow, steady retrieve. Match the hook size to the
bait's size and you'll be ready for big fish action!

UPC:051034194067, UPC:051034194074
Jig Head Rigging:
Use appropriate size and weight jig head. Insert
into the nose of the bait and thread hook through
the top center of the bait or Tube Jig Heads may be
rigged internally in the hollow body.

Rigged with Weighted Hook:
Using a screw lock or similar type hook, thread
the screw or needle into the nose of the bait,
insert the hook through the bottom of the
bait coming out of top and place the hook
point flush with the top of the bait making it
weedless.
DO NOT FORGET HOOKS http://fishingbaitslures.com/products/gamakatsu-worm-hooks-super-line-weighted-spring-lock

Remember FREE Shipping on orders of $25 or more!