STRIKE KING PRO MODEL EXTRA DEEP CRANK BAIT [HC10XD-590-SEXY SHAD]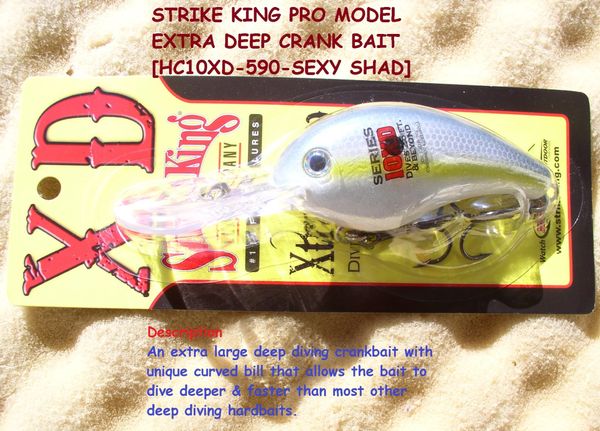 STRIKE KING PRO MODEL EXTRA DEEP CRANK BAIT [HC10XD-590-SEXY SHAD]
STRIKE KING PRO MODEL EXTRA DEEP CRANK BAIT [HC10XD-590-SEXY SHAD]
FOLLOW ME ON TWITTER
Typically ships within 1 to 4 Hours!
Description
Series 10XD - A shade under 2 oz. - Dives 25 feet and beyond
Big Bass are known to eat big bait. Coincidentally, bass angles target big bass. The all-new 10XD deep diving crank bait will appeal to both. At 6" in length and just a shade under 2 oz, the 10XD will easily hit the 25-foot mark on 14-pound fluorocarbon line, allowing you to get a crank bait in front of fish that you previously could not reach. It also casts and pulls surprisingly easy for its behemoth size. 
UPC:051034221466

PRICES ARE BASED ON WHAT I PAY + 10% PER ITEM, SO PRICES MAY VARY FROM ORDER TO ORDER THANK YOU KEN