STRIKE KING KVD PERFECT PLASTIC #DSKVD5-18 DREAM SHOT 5in 8-PK WATERMELON RED FLAKE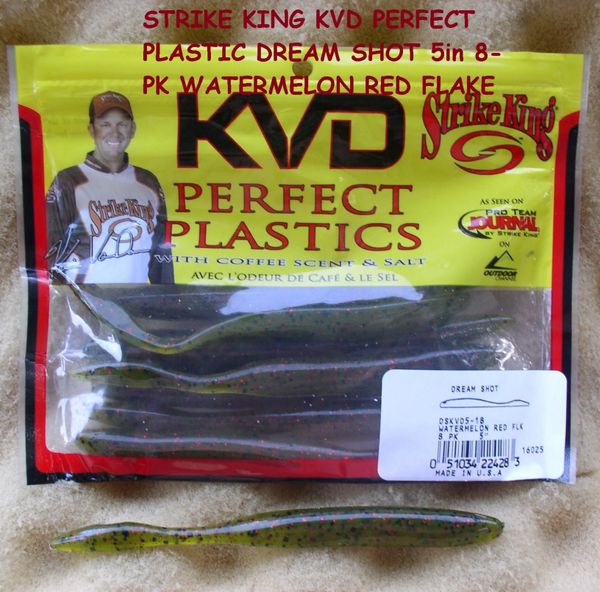 STRIKE KING KVD PERFECT PLASTIC #DSKVD5-18 DREAM SHOT 5in 8-PK WATERMELON RED FLAKE
STRIKE KING KVD PERFECT PLASTIC #DSKVD5-18 DREAM SHOT 5in 8-PK WATERMELON RED FLAKE
FOLLOW ME ON TWITTER
Typically ships within 1 to 4 Hours!
DESCRIPTION:

Strike King's Perfect Plastics are the softest, saltiest plastic lures ever produced and feature Strike King's exclusive coffee scent (patent pending). These baits contain the world's best blend of soft plastic ingredients! This allows the use of large amounts of salt, yet keep the bait soft, pliable and fishable. Coffee adds to the appeal as it masks human scents and oils and causes added bites and longer hold times which increase your hook-up chances. The KVD Dream Shot was based on the popular caffeine shad design with the triangle hinged tail section to quiver and shake with the smallest movements! These were designed by Kevin VanDam to be the perfect all-around drop shot bait!
UPC:051034224283
Strike King KVD Dream Shot tank test

PRICES ARE BASED ON WHAT I PAY + $0.50 PER ITEM, SO PRICES MAY VARY FROM ORDER TO ORDER THANK YOU KEN