STORM WILD EYE PRO PADDLE TAIL WPPT35PRPRL 3.5in PURPLE PEARL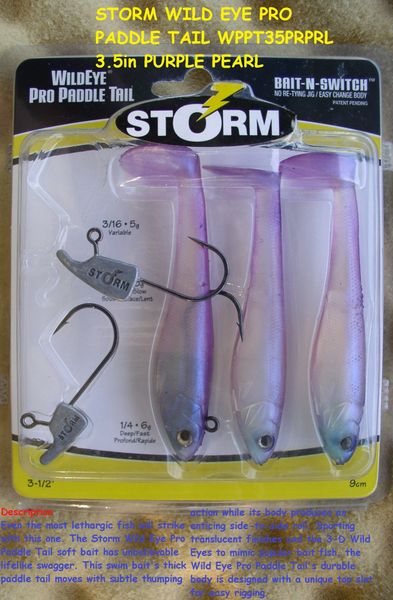 STORM WILD EYE PRO PADDLE TAIL WPPT35PRPRL 3.5in PURPLE PEARL
STORM WILD EYE PRO PADDLE TAIL WPPT35PRPRL 3.5in PURPLE PEARL
Description
Even the most lethargic fish will strike with this one. The Storm Wild Eye Pro Paddle Tail soft bait has unbelievable lifelike swagger. This swim bait's thick paddle tail moves with subtle thumping action while its body produces an enticing side-to-side roll. Sporting translucent finishes and the 3-D Wild Eyes to mimic popular bait fish, the Wild Eye Pro Paddle Tail's durable body is designed with a unique top slot for easy rigging.
Features
Storm Homepage: http://www.stormlures.com
Technical Specs
The Storm Soft Bait features:
> Balanced swimming bait with interchangeable jig heads
> Unique top slot in the bait allows the body to be changed without re-tying
> 3.5in long
> 3 Jig Heads, 3 Bodies
>3/16 oz, 1/4 oz, 1/8 oz
UPC#039984921131

Remember FREE Shipping on orders of $25 or more!