STORM WILD EYE LIVE SHRIMP 03 CHARTREUSE SILVER FIRE TAIL WLSP03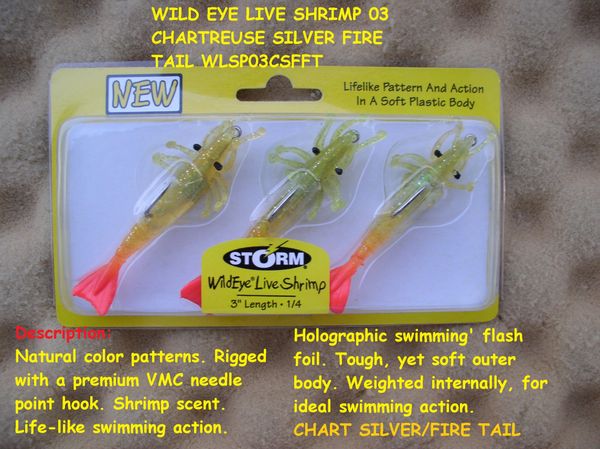 STORM WILD EYE LIVE SHRIMP 03 CHARTREUSE SILVER FIRE TAIL WLSP03
STORM WILD EYE LIVE SHRIMP 03 CHARTREUSE SILVER FIRE TAIL WLSP03
Description:
Natural color patterns. Rigged with a premium VMC needle point hook. Shrimp scent. Life-like swimming action. Holographic swimming' flash foil. Tough, yet soft outer body. Weighted internally, for ideal swimming action.
SPECS: WLSP03CSFFT CHART SILVER/FIRE TAIL
Color: CHART SILVER/FIRE TAIL
Size: 3" • 1/4 OUNCE • 3-PACK
Remember FREE Shipping on orders of $25 or more!