STORM WIGGLE WART ORIGINAL SERIES VMC HOOKS 7-18 FOOT X 3/8 OZ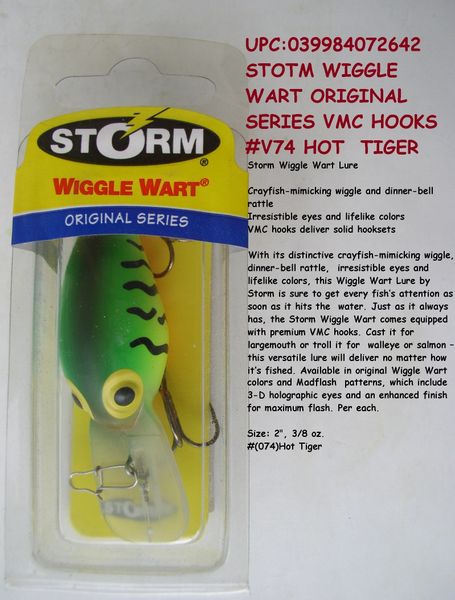 STORM WIGGLE WART ORIGINAL SERIES VMC HOOKS 7-18 FOOT X 3/8 OZ
STORM WIGGLE WART ORIGINAL SERIES VMC HOOKS 7-18 FOOT X 3/8 OZ
Description:

Crayfish-mimicking wiggle and dinner-bell rattle
Irresistible eyes and lifelike colors
VMC hooks deliver solid hooksets
With its distinctive crayfish-mimicking wiggle, dinner-bell rattle, irresistible eyes and lifelike colors, this Wiggle Wart Lure by Storm is sure to get every fish's attention as soon as it hits the water. Just as it always has, the Storm Wiggle Wart comes equipped with premium VMC hooks. Cast it for largemouth or troll it for walleye or salmon – this versatile lure will deliver no matter how it's fished. Available in original Wiggle Wart colors and Madflash patterns, which include 3-D holographic eyes and an enhanced finish for maximum flash. Per each. UPC:039984072642, UPC:039984072710
Size: 2", 3/8 oz.
#(074)Hot Tiger
#(210)Watermelon
Remember FREE Shipping on orders of $25 or more!