STORM KICKIN STICK ULTIMATE SEGMENTED SWIMMING BAIT EXAGGERATED KICKING ACTION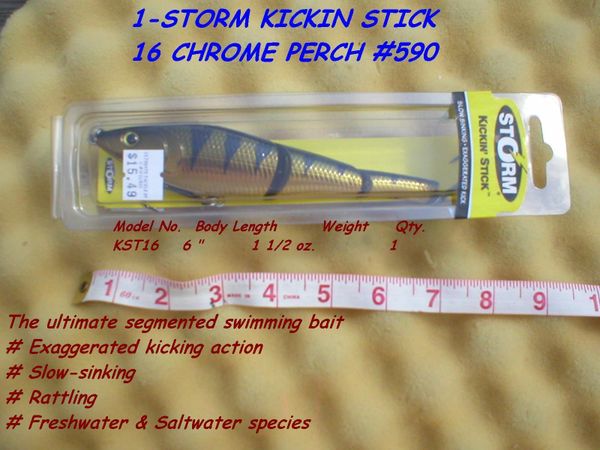 STORM KICKIN STICK ULTIMATE SEGMENTED SWIMMING BAIT EXAGGERATED KICKING ACTION
STORM KICKIN STICK ULTIMATE SEGMENTED SWIMMING BAIT EXAGGERATED KICKING ACTION
FOLLOW ME ON TWITTER
Typically ships within 1 to 4 Hours!
Description
STORM's Kickin' Stick is the ultimate segmented swim bait! Effective for a wide variety of fresh and saltwater species, the Kickin' Stick's three-part, segmented body imitates struggling bait fish by producing a supernatural swim kicking action that is sure to solicit strikes from all types of brutes. Its lip less front segment is designed to retrieve at a running depth of one to two feet below the surface. Combine that with loud vibrating rattles and the Kickin' Stick Swim bait will persuade big fish to climb the water column for a strike. Kickin' Stick Swim baits are equipped with Premium Black Nickel VMC treble hooks for consistent hook sets.  UPC:039984107894, UPC:039984107986, UPC:039984107801, UPC:039984107849
Model KST12: 5''; 2/3 oz.
Model KST16: 6''; 1-1/2 oz.
Model KST20: 8''; 2-3/4 oz.
PRICES ARE BASED ON WHAT I PAY + $0.50 PER ITEM, SO PRICES MAY VARY FROM ORDER TO ORDER THANK YOU KEN