STORM KICKIN MINNOW SOFT PLASTIC BAIT KSM06 SEGMENTED KICKING TAIL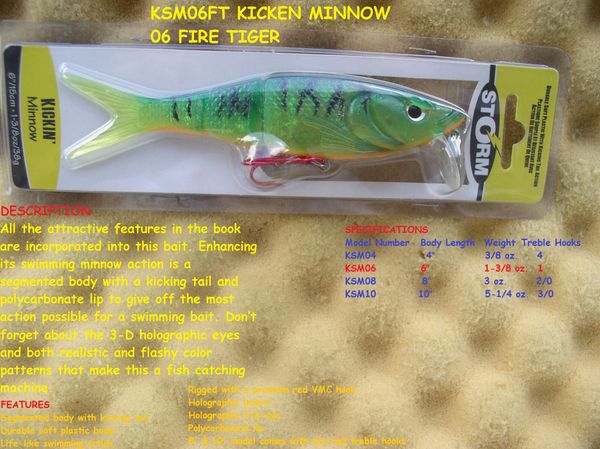 STORM KICKIN MINNOW SOFT PLASTIC BAIT KSM06 SEGMENTED KICKING TAIL
STORM KICKIN MINNOW SOFT PLASTIC BAIT KSM06 SERIES

SEGMENTED KICKING TAIL WITH LIFE LIKE SWIMMING ACTION & DURABLE SOFT BODY
Description:
The Kickin' Minnow's segmented body and kicking tail provide more realistic swimming action than traditional soft plastic minnow imitations
while its poly carbonate lip helps get the bait deep quickly.
1 3/8oz X 6in/15cm
Storm's signature holographic Wild Eye and body insert add extra fish-enticing flash.
Features
GREAT & TOUGH LURE

Soft body, lip less swim monnow
Life-like segmented kicking tail action
Durable soft body with holographic insert
Slow-sinking
Soft PVC material with reinforcing mesh
3-D holographic eye
Rigged with a black nickel VMC belly hook

Remember FREE Shipping on orders of $25 or more!