STORM BIG BASS DEEP CRANKBAIT FIRE TIGER OR MAG WIGGLE WART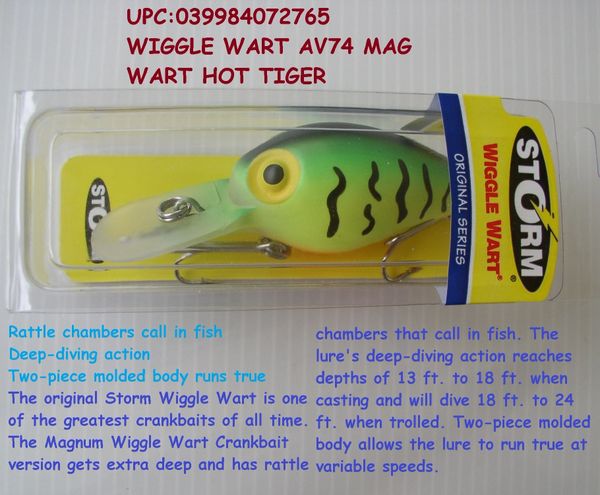 STORM BIG BASS DEEP CRANKBAIT FIRE TIGER OR MAG WIGGLE WART
STORM BIG BASS DEEP CRANKBAIT FIRE TIGER OR MAG WIGGLE WART
Description

Storm Big Bass Square Crankbait Fire Tiger
Item Number: SBBA06
UPC:039984112737

The outstanding design of the Storm Big Bass Square includes an external scale pattern with holographic body and eyes.
Features:
Subtle wobble action
Loud rattle
2` long
Weighs 3/8 oz.

WIGGLE WART AV74 MAG WART HOT TIGER
Rattle chambers call in fish
Deep-diving action
Two-piece molded body runs true
The original Storm Wiggle Wart is one of the greatest crankbaits of all time. The Magnum Wiggle Wart Crankbait version gets extra deep and has rattle chambers that call in fish. The lure's deep-diving action reaches depths of 13 ft. to 18 ft. when casting and will dive 18 ft. to 24 ft. when trolled. Two-piece molded body allows the lure to run true at variable speeds.
UPC:039984072765