Stanley Ribbit Top Toad Frog Double Take Frog Hooks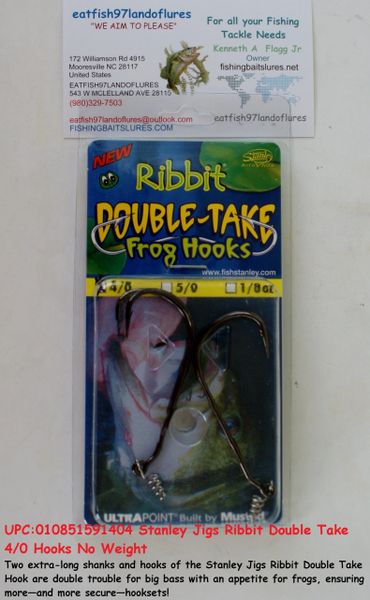 Stanley Ribbit Top Toad Frog Double Take Frog Hooks
Stanley Ribbit Top Toad Frog Double Take Frog Hooks
Description:

Designed around a super long shank that allows the twin hooks to punch through the legs at the rear of the toad without restricting the action.  UPC:010851591503, UPC:010851591107, UPC:010851591008, UPC:010851591404
Available Sizes

4/0 NO WEIGHT 2-PACK
4/0 1/8 oz.  WEIGHT 2-PACK

5/0 NO WEIGHT 2-PACK
5/0 1/8 OZ. WEIGHT 2-PACK
MORE Freshwater Terminal Tackle: https://fishingbaitslures.com/t/terminal-tackle

Remember FREE Shipping on orders of $25 or more!