Stanley National N226-738 N113-969 National 3 By 12 Inch Zinc Flat Corner Iron Braces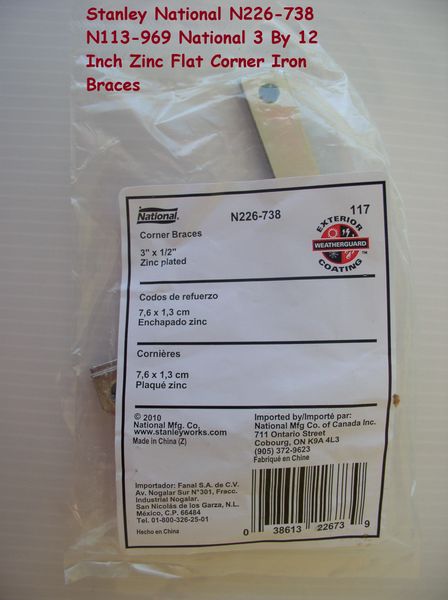 Stanley National N226-738 N113-969 National 3 By 12 Inch Zinc Flat Corner Iron Braces
Stanley National N226-738 N113-969 National 3 By 12 Inch Zinc Flat Corner Iron Braces
Description

117 series. 4 pack, 3 inch x 1/2 inch, zinc, flat corner iron, with screws. Designed to reinforce corners on chests screens, windows, etc. Product design allows for quick and easy repair of general household items. Screw holes are countersunk. Manufactured from hot-rolled steel. UPC:038613226739
Hole sizes fit Phillips Flat Screws sized #6.
Drill a pilot hole with a 5/64" sized drill bit when using wood screws.
Designed to reinforce corners on chests screens, windows, etc.
Product design allows for quick and easy repair of general household items
Screw holes are countersunk
Manufactured from hot-rolled steel
WeatherGuard

When subjected to 312 hours of salt fog spray testing (BHMA A138.18), zinc plated hardware showed severe corrosion while hardware with WeatherGuard™ protection withstood these harsh conditions with very little deterioration.
Remember FREE Shipping on orders of $25 or more!