SPRO POWER SWIVEL BLK SPSB-1/0-5 370lb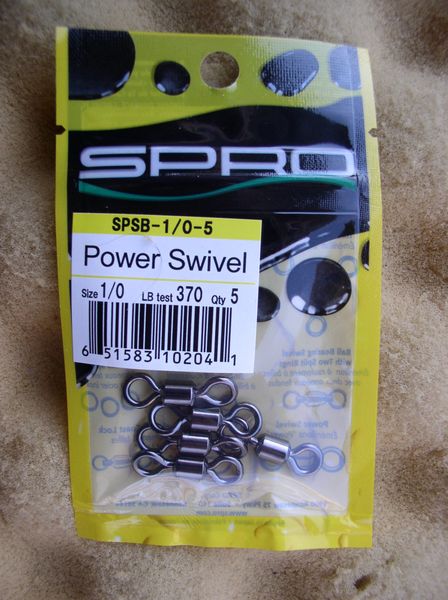 SPRO POWER SWIVEL BLK SPSB-1/0-5 370lb
SPRO POWER SWIVEL BLK
Typically ships within 1 to 4 Hours!

FOLLOW ME ON TWITTER 
SPSB-1/0-5
The SPRO Power Swivels work equally well rigged with live bait on flat and down lines or rigged ahead of a lure to prevent line twist.  UPC:651583102041
These amazing swivels are made of high-grade stainless steel with a gunmetal black finish. They offer super smooth rotation and unbelievable strength and durability. SPRO Power Swivels are 1.5 times stronger than standard barrel swivels despite their tiny appearance. With their reduced visibility, they offer very little water resistance in trolling and are superb for finesse type fishing where stealth is the key. Excellent for use in rigs for kingfish, stripers, bass, salmon, and many more.

Technical Specs:
Size   Length   Test  Eye Size
10       3/8        35      1/16
  8       3/8        50      1/16
  7       3/8        75      1/16
  6      7/16       80      1/16
  5       1/2      120      1/16
  4       5/8      130       1/8
  2     11/16    230       1/8
  1       7/8      330      3/16
1/0     15/16      370        3/16
2/0        1       550       1/4
3/0   1 1/16    790       1/4
4/0   1 1/8      940       1/4
5/0   1 1/4    1180       1/4 
PRICES ARE BASED ON WHAT I PAY + $0.50 PER ITEM, SO PRICES MAY VARY FROM ORDER TO ORDER THANK YOU KEN